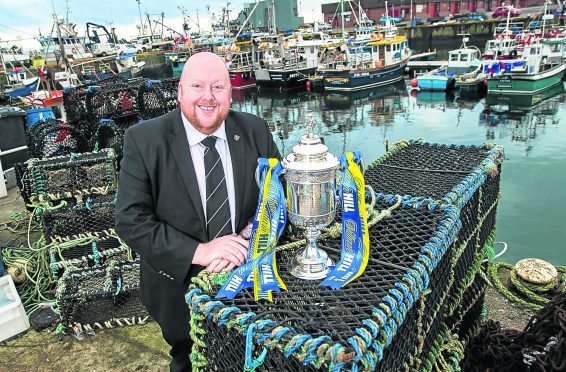 Fraserburgh chairman Finlay Noble has revealed that Sunday's eagerly-awaited William Hill Scottish Cup fourth-round tie against Rangers at Bellslea is not quite the money-spinner many would have imagined.
Lifelong Broch fan Noble said: "We understood from the outset that the tie wouldn't provide the pot of gold many people would have expected.
"The TV money these days will certainly help but it certainly isn't as big a fee is it used to be and we were very supportive of the SFA proposal to divide the TV money up more fairly so that every club gets more from the pot as they progress through each round than they did before. That seems to be a much fairer distribution of the money than it ever was.
"The police and security bill for the tie against Rangers will be quite high. We're having to erect 9ft high fencing right round the perimeter of Bellslea.
"The fencing will be on the street as opposed to on the dyke surrounding the ground, right along the nearby gardens and the swing park at the back, so Bellslea Park will be completely enclosed by this fence.
"Even the cost of the printing of the match tickets has been increased as they all have to have a hallmark on them again for security purposes.
"We reckon that it will probably cost us in the region of £15,000 to host the game but we fully accept that as we always wanted the game to be at the Bellslea.
"We average just under 300 of an attendance every week. Our official ground capacity, before we entered into discussions with the council and the police, both of whom have been brilliant to deal with, was 1,175, but we have managed to get that increased to 1,865, with Rangers getting 350 tickets.
"It is going to be a brilliant occasion and we needed to make sure that the game didn't go elsewhere. If we had moved it to say either Peterhead or Pittodrie then it would be just a 'friendly' and it wouldn't be the occasion it's going to be now.
"Our manager Mark Cowie and the players have got us to this stage and it was important that they got to play the game on their own ground."
Emphasising that point, Noble added: "I know old guys who still wax lyrically about our historic Scottish Cup victory against Dundee way back in 1959 and where they watched the game from and others who talk just as fondly about the friendly against Celtic for the lifeboat disaster fund in 1970 and where they stood at for that game.
"We want folk in 30 to 40 years to still be talking about the forthcoming Rangers game in a similar fashion so they can tell their grandchildren where they stood that day in 2018 when the famous Glasgow Rangers came to Bellslea."
Noble went on to reveal a little about his lifelong commitment to the Broch and said: "In 1981 when I was 12, I used to go to some of the games as George Malley, who was a Broch coach at the time and then went on to become manager, lived just round the corner from myself and I went along with him and used to go to away games on the team bus.
"After Benny Smith, who used to clean the players' boots, was hurt in a traffic accident, Jimmy Adams, who was later to become the Broch chairman, asked if I would take over and I've been there, in various roles, ever since. They've never managed to get rid of me. From 1981 to 1995 I never missed a Broch game, home or away, one instance stands out, in particular. It was the day of my cousin's wedding, a day when we were at home to Keith in the Centenary Cup.
"Rather than go to the church for the wedding I decided to watch the game instead. We lost out to a 90th-minute goal. It didn't go to extra time and that kind of saved my bacon a wee bit and I managed to get to the meal. It was only when the wedding video was played that anyone noticed that I wasn't in the kirk."