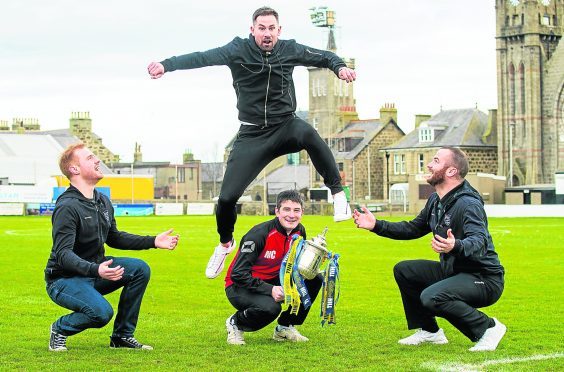 His office is adorned with quotes from football's global icons.
From Sir Alex Ferguson to Jose Mourinho, Pep Guardiola and Zinedine Zidane, the philosophies of some of football's most famous managers are on display inside Fraserburgh manager Mark Cowie's office at Bellslea Park.
They are different men with differing approaches to the game but they share one trait – they are all winners.
The Broch boss faces a dilemma as he prepares his William Hill Scottish Cup underdogs for Sunday's fourth-round tie against the mighty Rangers at his modest ground.
Does he park the bus or have a go?
Cowie, while not willing to give too much away, is clear in how his players will approach one of the biggest games of their careers.
He said: "That's the million-dollar question. We could put 10 men behind the ball or have a go. Both could work. Without giving too much away, looking at games like Liverpool against Manchester City and Bristol City against Manchester City, if you go after them you have more of a chance.
"We could sit-in and if lady luck is shining on us we could get something or lose 1-0 but they are quality players and they will get a chance if we sit-in.
"My mind is let's have a go and if we lose three of four that is what is expected, if not more. That's what everyone expects to happen.
"Jose's on my wall but so is Pep in full view. I'm more of a Guardiola philosophy than a Mourinho philosophy, put it that way."
It will be a bold approach against Rangers but Cowie believes life as a part-time manager dictates he has little wriggle-room for developing a one-off strategy for facing Graeme Murty's side.
He said: "We're second in the league behind a Cove Rangers team which is having an unbelievable season in the Highland League. We're doing well playing the way we play.
"Glasgow Rangers are coming and we only have two nights to prepare for them. We could try to change the way we play and forget about what we've done in the last two weeks, so I don't think I should change my ways.
"We'll give them all the respect as they are Rangers but it's 11 against 11 and if we battle and a lot of things go our way you never know.
"I'm not going to sit here and say we're going to beat Rangers as that's ludicrous but as long as we come off that park knowing we've done well I'll be happy.
"I want my guys to enjoy it and do Fraserburgh proud but I've no worries about that."
Cowie is forging an excellent career in his first managerial job. He is in his fourth season in charge and has guided his club to two trophies in his time at the Broch. But Sunday will be, without exception, the biggest test he and his players have faced in their careers. Cowie, however, is not daunted by the prospect and neither, it seems, are his players.
He said: "I've been lucky. I've won a couple of trophies and I'm in my fourth year in charge. I've taken the team to Falkirk and for 75 minutes we were 1-1 until the guys tired at the end and they went down 4-1.
"We didn't disgrace ourselves then and a couple of years later we are facing Rangers.
"We scored at Falkirk and, while they had more possession than us and it was on their 3G pitch, which we are not used to, at 1-1 we had a half-chance. If that had gone in then we would have parked the bus but Lee Miller scored a couple of late headers.
"We had a go at them, though, as that's the Fraserburgh way, so why change it?"
Cowie's preparations for Sunday's big game have been further complicated by the Light Blues changing of the guard this month under caretaker manager Murty.
Carlos Pena is gone, while Jamie Murphy and Sean Goss have arrived on loan.
They will be joined by Jason Cummings and Russell Martin.
The Broch boss knows the size of the task before his team and the difficulty he faces is increasing.
But he is confident his players will be ready for their date with destiny. He added: "If Jason Cummings comes in he is quality but if he doesn't then Alfredo Morelos is starting to bang in goals for them and Sean Goss looks a good player.
"They have quality throughout their team and, with the new additions, we are not exactly sure who might be playing against us.
"We have a fair idea what we are doing and we have a fair idea of what Rangers are doing, so we have prepared as much as we can."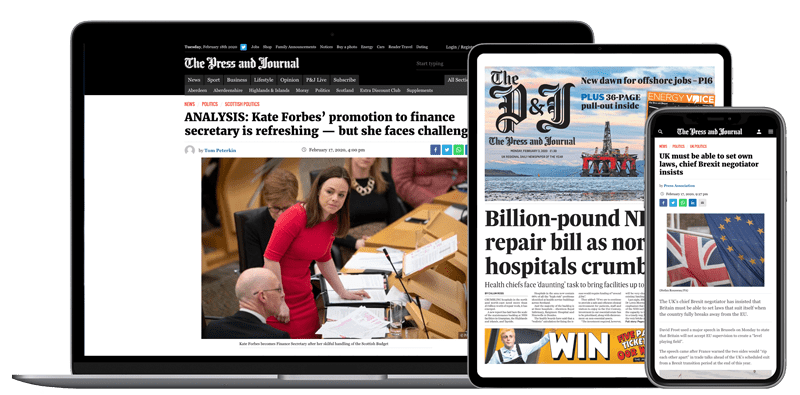 Help support quality local journalism … become a digital subscriber to The Press and Journal
For as little as £5.99 a month you can access all of our content, including Premium articles.
Subscribe