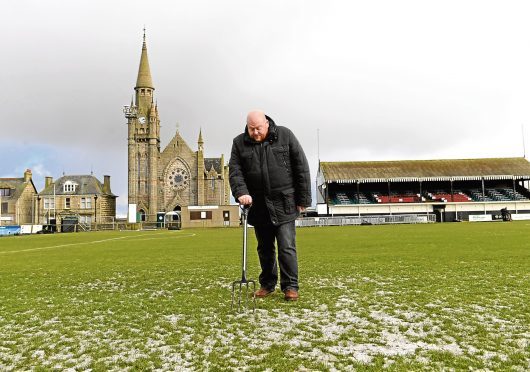 Fraserburgh chairman Finlay Noble is confident his club will not be out of pocket after yesterday's Scottish Cup tie at home to Rangers was postponed and rearranged for the end of the month.
The Broch will now meet the Ibrox side on Wednesday, January 31, after Bellslea failed a pitch inspection on Saturday.
The game was due to be televised live on Sky Sports yesterday but the broadcaster has yet to confirm whether it will show the rearranged tie.
Noble said: "We will find out in a couple of days if the game is still going to be on Sky Sports.
"We certainly hope that will be the case because we will make a healthy profit from the game.
"Even if Sky does not take the match then we still expect to make a very small profit.
"It has cost us between £15,000 to £20,000 to host this game but we expect that to be offset by the ticket sales, hospitality and sales of refreshments at the ground.
"However, we will have to look at bringing in additional floodlighting if Sky take the evening game."
The Broch chairman paid tribute to the 120 volunteers who worked from Friday night to Saturday morning in a bid to get the game on.
He said: "I wasn't aware of the lengths people had gone to. I had been at Bellslea from 7am every day last week until 8pm on Friday.
"I had hardly slept all week but I fell asleep just after 9pm on Friday.
"When I went up to Bellslea on Saturday morning and saw all the volunteers helping out, I just burst into tears.
"We had space heaters on the pitch from 6pm on Friday doing one section at a time. But as soon as we managed to defrost one area, another section was freezing over.
"It was amazing the amount of people who had come down to help but I knew their magnificent effort was doomed to fail.
"It was heart-breaking to send everyone home after they had tried so hard to get the game on."