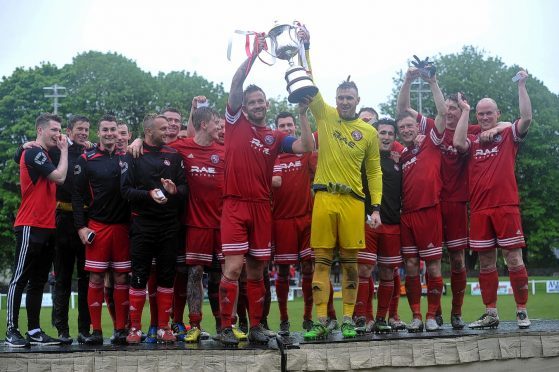 Brora Rangers' Scottish Cup success has only served to further convince chairman William Powrie the Cattachs could hold their own in the SPFL.
The Sutherland club is eagerly anticipating its first appearance in the fifth round of the competition when they travel to face Premiership side Kilmarnock on Saturday, having already knocked out League 1 teams Stranraer and East Fife.
Brora raised concerns over the implications of competing in the league when they were involved in the first SPFL pyramid play-off in 2015, when they defeated Lowland League winners Edinburgh City before losing out to Montrose.
Powrie, who has been at the Dudgeon Park helm since 2016, says Brora are now intent on earning another crack at climbing the ladder through winning the Highland League.
Powrie said: "With the introduction of the pyramid system it is de facto we have to want to progress.
"The club always wanted to progress but there was so much uncertainty the last time. Because it was the first ever introduction of the play-offs, lots of questions were being asked and there were not answers forthcoming, as the Scottish FA and ourselves could not really give them.
"Now we have seen it two or three years down the line with Edinburgh City progressing to the league, while East Kilbride and Cove Rangers have missed out.
"There is some precedent we can take, and look at what it would be like if we did manage to get there. That has to be our ambition.
"Now the financial remuneration has been sorted out from the very early first draft, if we were to get into League 2, the travelling and associated oncosts would be a little bit easier to manage.
"That said, it would change the dynamic of the team. Would we then have to start looking at players from outwith the Highlands? We have seen what's happened with Elgin who get players from down south.
"I don't think anybody really knows what effect that would have on the club until we're actually immersed in it.
"In terms of ambition though, we want to proceed. We've got a very good sponsor in RAE Energy, and they are absolutely committed to supporting the team and backing it as much as we want to go."
Brora's immediate focus is Saturday's tie at Killie, with the Cattachs expecting more than 400 supporters to make the journey south to back Ross Tokely's men, and Powrie is daring to dream of another upset.
Powrie added: "There's a great deal of excitement. Ross is very professional, the concentration on Saturday was on the Inverurie Locos game and we played very well to win 4-1 against a good side.
"But all the supporters and guests were talking about was the Kilmarnock game. We had a huge uptake in hospitality and all they were talking about was wanting to go down and support the club.
"There are so many people looking in at this tie. We have got there on merit, on what we have done, so we take our place rightfully.
"We all felt that was a real shock when we beat Stranraer – I don't think I'm being disrespectful to anybody there.
"We travelled to East Fife with a little more confidence having already done the Stranraer job, knowing the two teams are roughly on a par.
"Whilst Kilmarnock takes it to another level altogether, who is to say it won't be third time lucky? These things do happen."