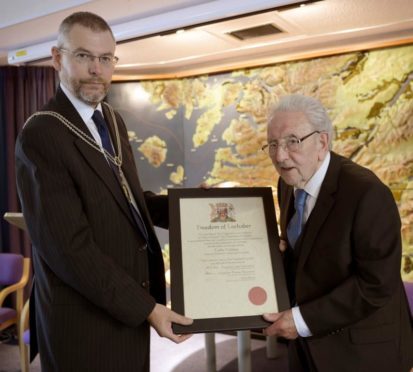 He was the man who put the club on the map in the first place.
But now, Fort William FC has confirmed the death of Colin Neilson, the Highland League organisation's founding chairman.
Mr Neilson died last Thursday and rich tributes have been paid from across the sport, while next weekend's match has been cancelled as a mark of respect.
He was described by many people as a "true gentleman" and "a great loss to the Lochaber community."
Dennis Bridgeford, the president of the Press and Journal Highland League, said: "What I remember most was his drive and enthusiasm, he was a passionate football man.
"It was his enthusiasm to get Fort William in the Highland League – he was the driving force and he is a sad loss to the league and the Highlands."
"He was very courteous, a gentleman, he always had time for everyone, but it was his enthusiasm I recall most strongly."
Writing on social media, the club added: "All at Fort William FC were saddened to hear the news of the passing of our Honorary Life President, Colin Neilson.
"Our thoughts are with Colin's family at this sad time."
Mr Neilson enjoyed a prominent public career in the Lochaber area which saw him elected to Fort William Town Council in 1971 as well as being a life-appointed Justice of the Peace.
During this time, he founded Fort William FC and, in 1975, was elected as a member of the new Lochaber District Council.
While on the council, he served as the chairman of the leisure and recreation committee between 1982 and 1988.
In June 2016, the prestigious and rarely awarded Freedom of Lochaber was bestowed on Mr Neilson in recognition of his lifetime of community work.
According to the funeral announcement, Mr Neilson passed away at his home while holding hands with his wife of 67 years, Grace, and he is survived by her and his children, Colin and Shiona.
A "service to celebrate" his life will be held at Duncansburgh-MacIntosh Parish Church before he is laid to rest at Glen Nevis Cemetery on Saturday.
In its own tribute, the Rotary Club of Fort William said he was "a community champion in every sense of the word."
"He willingly and effectively contributed a huge amount of his time and skills to local government, healthcare and sport."