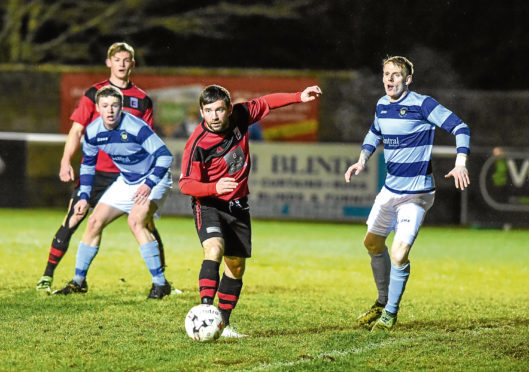 Inverurie Locos centre forward Neil Gauld has scored several Highland League hat-tricks but Saturday's first-half treble was something of a rarity as all three goals came from penalties.
Gauld scored from the spot in the 14th, 28th and 43rd minutes of a 3-0 home win against Clach.
He said: "That was a first for me. Over the years my penalty ratio hasn't been that good but this term, apart from the one I missed in pre-season, I've scored every one that mattered.
"There was absolutely no doubt about the award of the first two penalties. They were stonewallers as Chris Angus and Jordan Leyden were both chopped down in the box.
"The third was more debatable – a cross came into the box and when I tried to head it I got a wee nudge and went down. The linesman gave the penalty, although I will admit it was a soft one.
"Funnily enough, I put all three penalties in the same spot. The Clach keeper went the wrong way for the first one. He thought the next two would have been fired down the middle so he didn't really move for either of them but they too went low to his bottom right corner.
"It took my season's tally to 25 and, as we've been knocked out in the first round of every cup competition we've played in this season, 23 of those have come in the league.
"It's my best return for league goals since 2013-14 when I finished as the league's top scorer."
Gauld added: "We play Huntly at Christie Park on Wednesday before heading to Buckie on Saturday.
"They are both winnable games. Buckie aren't the team they were last season as they have had a lot of players picking up serious injuries, although they still have a good side and we are expecting a tough game.
"We beat Huntly 6-0 earlier in the season after they had a player sent off.
"That result makes it seem easier than it actually was.
"They've got a few good players as well and a it's a derby that will be a hard one."