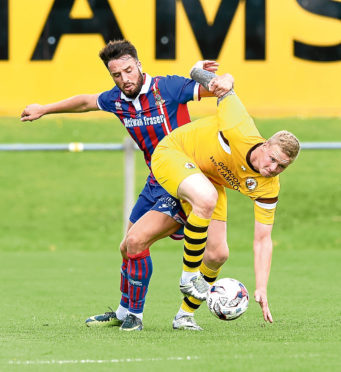 Forres Mechanics striker Lee Fraser could miss the rest of the season with a knee injury.
Fraser, who has netted 20 goals this season, had to come off in Saturday's 5-3 Breedon Highland League Cup triumph over Deveronvale last Saturday, a game where his twin brother Graham took over the scoring mantle with two strikes from set-pieces.
Lee Fraser was out of the game for more than a year with a serious knee injury sustained indoors at training during the Can-Cans 2011-2012 title-winning season but thankfully it is not the knee which is now held together with webbing which requires attention.
Mechanics' manager Charlie Rowley said: "It isn't Lee's bad knee and it is a bit too early to say what the problem is as it's still pretty swollen.
"Lee has been referred to the specialist and I think he is due to see him next Thursday so we will have a better idea when we hear what he thinks.
"He went up for a header and when he came down he felt something going in his knee. There was no challenge involved from anybody, it's just one of those things.
"The early suggestions are that it is either a cartilage injury or perhaps an ACL but it's hard to tell without a referral to a specialist, and possibly a scan to determine what the problem is.
"I'm more disappointed for Lee to be honest as he's had a tough time with lengthy injuries and we'll also suffer if he's out for any length of time.
"If it is one of those two types of injury then Lee's season is definitely over.
Rowley, meanwhile, felt the return of Forres full back and set-piece specialist Simon Allan, was crucial in his side's hard-earned extra-time triumph over Vale last weekend.
He added: "Lee is impossible to replace, but his twin brother Graham, who plays at the back, did score two goals from set-pieces.
"It's a long time since we've scored from one of those, not since Simon Allan has been out injured.
"It goes to show just how important our full back Simon Allan is. He set up three of our five goals."