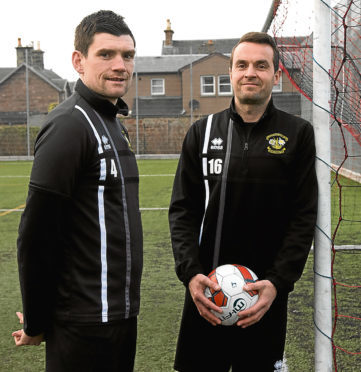 A cruciate ligament injury at 32 would persuade most footballers to consider calling it a day. Martin MacDonald was no different.
But after two years of rehabilitation and the help of a close friend, MacDonald made his return to the Highland League this season and has no designs of giving up the game just yet.
The Clach defender picked up the injury in August 2015 in what turned out to be his final game of a decade at Nairn County.
He landed awkwardly from a header in the 89th minute of a 4-1 win against Deveronvale and never donned the yellow and black again.
He signed for Huntly last season but never featured as he continued his comeback with physio sessions at Inverness Leisure and the help of physiotherapist Sean Webb, a team-mate at Nairn and now Clach.
MacDonald said: "Sean, Mark Mitchell and Lynne Macdonald, the physios at Raigmore Hospital, have been brilliant with me.
"I had classes with them at the sports centre on a Thursday and credit to them for helping me out. I was doing a lot of strengthening exercises, fast footwork drills, twisting and turning – things I would need on a Saturday. That has made a big difference.
"I have to thank (Huntly chairman) George Clark and their physio Gordon Carter for pushing for the operation.
"(Clach manager) Iain Polworth has been great with me, too. He told me just to come back when I was ready.
"There was no point rushing back to play 10 minutes; waiting until I was strong enough was the best thing I did. That's the advice I give mates now, that it's not worth rushing it.
"I had it in my head that I wanted to play again and Clach was perfect for me. It's close to home and I know most of the boys. I've agreed to sign a new deal and for the last five or six weeks I've been helping Brian Macleod with the under-20s, which is something I'm keen to get into in the future."
MacDonald has come back and not just played a bit-part role. He has been able to play full 90 minutes for the Lilywhites without any repercussions from his old injury, chipping in with three goals. He turns 36 in September and ahead of Clach's final league game against Deveronvale on Saturday, MacDonald wishes the season was not coming to an end.
He added: "The season is ending just as I'm feeling fresh. The goal was to get back playing and I'm delighted to be able to do that."
Meanwhile, Clach assistant manager Brian Mac-leod is taking a break from the game to recharge his batteries.
MacLeod, who has been coaching at Grant Park since 2014, said: "I'm just going to take a break, see what happens and take it from there.
"I have been in the Highland League for years and went straight from playing into firstly coaching, then two years ago I was appointed Iain Polworth's assistant manager at Clach.
"I had originally planned to take a break when I stopped playing but that didn't happen.
"I haven't really been enjoying it for the last six months or so, I always told myself that the day I stopped enjoying my football was the day to take some time out, and that's the way it's turned out."