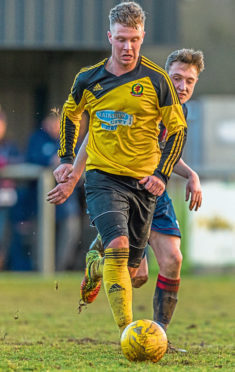 Cove Rangers midfielder Ryan Strachan hopes to be fit enough to play a part in his side's crunch pyramid play-off final at Cowdenbeath on Saturday.
The 27-year-old former Peterhead player was unable to feature in the play-off semi-final against Spartans or last weekend's 0-0 draw against the Blue Brazil.
Strachan said: "I'm going to be training this week in an effort to hopefully make Saturday and I will know by Thursday if I'm going to be available or not.
"It's the biggest game in Cove's history. Our ambition was to win the Highland League to put us in this position then hopefully progress into League 2.
"To achieve that we need to get a result on Saturday but we need everyone to be fighting fit and ready to go.
"It was good that my team-mate Jonny Smith was fit enough to make the bench last Saturday but I certainly wasn't in that position last weekend.
"As of right now, I genuinely don't know if I'm going to be fit for Saturday or not. I can do straight-line running, I did some on Saturday and had no reaction which is good but I have yet to try football movements or anything like that.
"I ruptured a ligament in my left ankle against Brora Rangers. I was advised that it would take a minimum of six weeks and that's now three-and-a-half weeks since I suffered the injury.
"I've been to physio in Aberdeen, I've seen the club physio and I've also taken a week off work, so I've done every rehab I possibly can in an effort to get fit for the second leg of the play-off at Cowdenbeath this weekend.
"Everything I've done so far has worked as I'm in a position where I can run. I feel that I have at least given myself a chance."
Strachan says he had a mixed record against Cowdenbeath during his time at Peterhead. He added: "I've played at Central Park several times.
"I've won a few and lost a few but it's a tough environment and certainly not an easy place to go.
"The home fans will certainly give Cowdenbeath their backing. The dressing-rooms are small and the pitch won't be the best, so it will be hostile game but we're used to that."