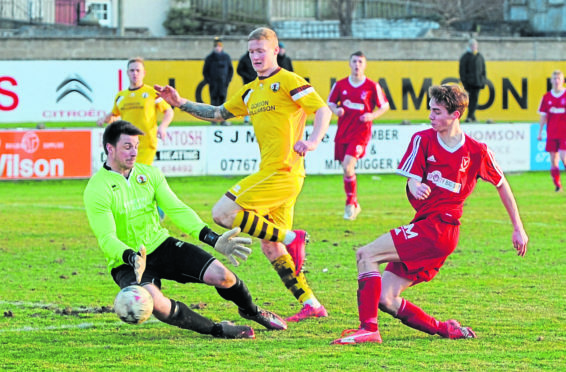 Rothes thought they had signed a new goalkeeper yesterday until Forres Mechanics goalkeeper Stuart Knight had a change of heart last night and pulled out of the chance to join the Speysiders.
The 30-year-old, who has just had a testimonial season with the Can-Cans, signed a two-year deal with the Speysiders on Monday evening and was set to be unveiled as Mackessack Park's sixth summer signing.
But in a dramatic development last night he called Rothes manager Steven Macdonald to advise him that he would be remaining at Mosset Park.
Although Rothes had the relevant signed document they would not have been able to register it with the SFA until Knight's existing contract with Forres had expired on May 31.
Knight said: "I had a last-minute change of heart.
"After signing the form for Rothes I came home and put my daughter to bed and I felt terrible. It just didn't feel right.
"I found myself coming up with excuses for going. My head was turned by what was on offer at Rothes but in the end I just decided that it wasn't worth it.
"My club is Forres and that's where I want to spend the rest of my career so I will now be signing a two-year contract with them rather than Rothes.
"I have spoken to the Forres manager Charlie Rowley and he is absolutely delighted. I must also praise Rothes manager Steven MacDonald who has been great throughout the whole process.
"When I called him to tell him that I had changed my mind he was very understanding about the situation. I was really taken aback by his sheer professionalism and I can't say enough about the man."
Rothes manager MacDonald admitted he was disappointed the deal had collapsed. He said: "Stuart called to say he wanted to stay at Forres. We were quite far down the line and before that call he seemed clear in his own mind that he wanted to go.
"It's a big turnaround but it's important that Stuart does what's best for him, that's the main thing as far as I'm concerned."