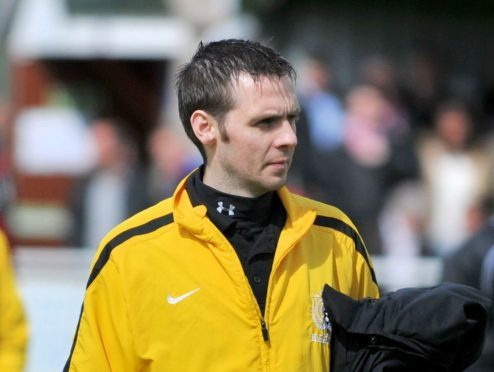 Close friends of Ally Macleod paid glowing tributes to the former football coach after he lost his battle with leukaemia at the age of 37.
Macleod was hugely popular in the Highland League, particularly at Nairn County where he served as a youth team coach and assistant manager.
Stuart Leslie, Conor Gethins and Martin MacDonald, who all played under Macleod and manager Les Fridge at Nairn, were shocked when they were told on Tuesday. Macleod, who worked as a sales executive for Scania Trucks in Inverness, had been diagnosed with myelofibrosis in 2011 and had stem-cell transplants to treat the disease.
He had recovered enough to come back to football, managing Deveronvale in 2015 and coaching with Brora Rangers last season, but succumbed to the illness on Tuesday.
Leslie remembers Macleod fondly from when he signed for Nairn in 2013, with his assistant boss also bringing him to 'Vale when he got his first managerial job.
He said: "He was an outstanding gentleman – that's the only way I can put it. Everyone knows the reason I went to Deveronvale was because of Ally; his positivity meant he was a great guy to be around.
"When I first signed for Nairn with Daniel Moore, he made me feel at home. I remember the game he left to have treatment – Conor Gethins scored and we all went to the dugout and jumped on Ally. It showed everyone was together with him.
"If there was a way to live life by, Ally showed it. He remained positive no matter the situation. He never let it get him down."
The memory of that celebration sticks out to Gethins, who remained in contact with Macleod over the last few months.
Gethins said: "We all ran towards him and it showed our togetherness as a team. It's sad to think he's gone and I can't imagine what his mother, wife and family are feeling.
"I'd been speaking to him over the last few months to see how he was keeping. Ally being Ally said he was fine but I knew things weren't great. I was gutted when I woke up to the text on Tuesday morning. It's not something you want to hear about one of your mates.
"Ally was the kind of guy that would drop everything for you. If I asked him to take me to London the following day, he would get in the car and do it. That's him in a nutshell and he's been taken far too soon."
Macleod, originally from Kinlochbervie, lived with his wife Alanna and dogs Broony and Harry in Smithton. MacDonald was fulsome in tribute to his former assistant manager.
He said: "He was a great guy that would go out of his way to help others. He was brilliant for my testimonial dinner, selling tables to his work colleagues and organising prizes. Ally was just someone who always helped people out.
"There's no doubt he was a brilliant number two at Nairn and was held in high regard throughout the Highland League."
Macleod's funeral will take place at Kinlochbervie Church of Scotland on Saturday June 16 at 1pm. Team colours and ties are requested.