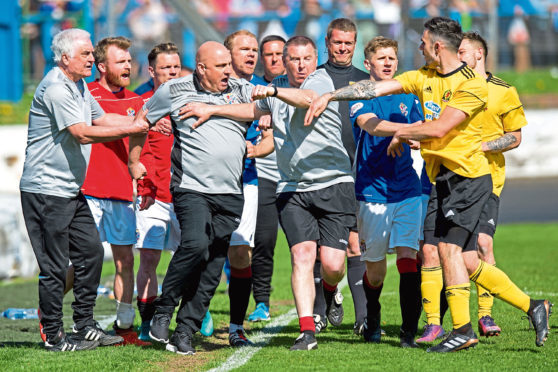 Highland League champions Cove Rangers have been fined £500 for their part in the ugly scenes which marred the second leg of the Pyramid Play-off final loss to Cowdenbeath last month.
Cove boss John Sheran has also been banned for the first two matches of next season.
The Cove manager was found guilty of the charge of misconduct and has been given a one-match suspension. He received a further two-match ban, one of which is suspended until the end of next season, for admitting to criticising referee Steven Kirkland and his fellow officials in his post-match interview.
Cowdenbeath were fined £1,000 for their part while Blue Brazil assistant Ian Flaherty was given a two-match ban for misconduct.
Sheran will miss the Betfred Cup ties at Caley Thistle on Saturday, July 14 and his club's first home match at their new Balmoral Stadium against Hearts four days later but will return to the scene of the incident for the group match at Central Park on Saturday, July 21.
Following the match Sheran told BBC Scotland: "When you get officials swearing at players and swearing at me, then you know the game's gone all wrong. It was a soft penalty, a soft free-kick for the second goal, but the third one topped it all off.
"After what I've said they (the governing bodies) will probably want to call me up and fine me. The referee decided to send myself and Mr Bollan to the stand for absolutely nothing.
"That melee resulted from the referee's complete loss of control of the game. He had lost it long before that and if you keep making continual mistakes then my other players get frustrated. From my point of view, it looked like he was wearing a blue shirt."
Cove striker Paul McManus had already been dismissed when matters escalated further following a challenge near the dugouts which resulted in a mass brawl on the touchline involving every player other than Cove goalkeeper McKenzie. Cove finished the game with eight men when Scott Ross and Eric Watson were sent off and Sheran and his Cowdenbeath counterpart Gary Bollan were sent to the stand.