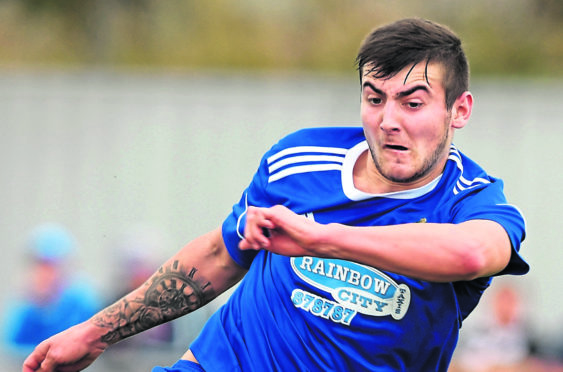 Former Nairn County striker Jordan MacRae is relishing his return to his old stomping ground when Cove Rangers look to keep their flawless league record going at Nairn County this evening.
MacRae, who made the move from Station Park to Cove at the start of July, has scored 10 times this season, including a brace in Saturday's 8-0 League Cup win against Turriff United.
But the electrician from Ardersier, who only turned 20 last month, admits he has had to be patient with the competition for places at Cove, who have won 15 out of 15 this term.
MacRae said: "At Nairn I was the key striker and felt that even if I had a bad game I would still be selected for the next game.
"That's not the case at Cove where there are five or six players fighting for two slots and injuries and suspensions have meant we've had to change the line-up a few times.
"I'm looking forward to playing against my old club for the first time since I moved.
"I'll only have a short trip to the ground as I'm still based up north and I'm hoping for a good reception from the home supporters."
MacRae feels his confidence is growing with every game. He added: "I could have scored more against Turriff United on Saturday but we have to be happy with four goals in each half and a clean sheet.
"It's fair to say that I took a wee while to find my feet with such a high profile club, but I'm really enjoying it now."
Nairn County manager Ronnie Sharp could be without four key players for the meeting at Station Park against the league leaders.
Sharp is unhappy the game has been rescheduled to midweek. The match was initially scheduled for October 27 but was rearranged as Cove were in the Scottish Cup.
Sharp said: "We have quite a few boys unavailable as they are working shifts.
"A few weeks ago we knew we didn't have a cup game last Saturday so four of the lads re-arranged work and holidays accordingly and that has come back to hurt us."
The County boss admits his defenders have their work cut out with the firepower Cove possess.
He added: "Jordan MacRae has done pretty well since he left us to join Cove and no doubt he'll be looking to get on the scoresheet against us.
"But he's only one of many, including Mitch Megginson who has already found the back of the net 28 times this term.
"Megginson is really hard to pick up as his movement is excellent, and to be honest Cove have good players all over the park."