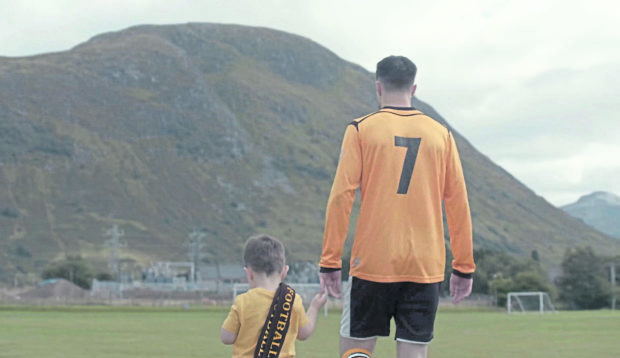 Fort William are being dragged from rags to digital riches by an avid gamer.
Jon Cox, who has a YouTube channel under the name of Loki Doki with 40,000 subscribers, has taken over the Lochaber club on popular computer game series Football Manager in an ambitious long-term project to have them punching alongside Celtic.
However, rather than just being a test of his FM skills, Cox has set about raising much-needed funds for the Fort through running a justgiving page alongside his regular game updates.
Cox said: "People suggest different saves for me to do all the time and I had never done one in Scotland.
"On one of the live streams I ran I said I fancied doing a lower-league challenge and I got sent a link to Fort William. These guys must have hearts of iron to turn up and play each week.
"After I saw the documentary I thought about ways to raise some money, perhaps buying some advertising at their stadium.
"But I wanted to give them the money without any strings attached. I'm hoping to raise between £3,000 and £5,000, and we're up to £1,500 already.
"In one episode I had a look at one striker and he wasn't a natural at any position. I said he wasn't a natural footballer and it got picked up by a couple of the players and we had a bit of banter on Twitter.
"It's a tough save, as you're relying on a pretty small talent pool and there's no money.
"We need a miracle cup run or a takeover from a rich oil baron. But it's an interesting save and it's about making the most of what you've got."
The Highland League is not part of the main FM database and a custom one has been created by another user to incorporate the Scottish lower leagues.
Only a smattering of real-life players are included and the rest of the squad is made up of free agents Cox has signed and ones generated by the game.
Episodes of 20-30 minutes are regularly uploaded to Cox's channel, documenting his latest round of games as Fort manager.
It has captured the imagination of the club and players, garnering a positive response on social media. He is fairing slightly better than his real-life counterparts, guiding them to 16th in his first season.
Cox has done something similar in the past. When English National League side Hartlepool United were struggling financially earlier this year, he ran a live stream on his YouTube account and helped raised nearly £2,500 from his subscribers.
Fort made the decision earlier this year to remain in the Highland League rather than turning amateur and dropping into the North Caledonian League.
Being competitive has proved an enormous task, with Fort rooted to the bottom of the division having been deducted nine points for fielding an ineligible player three times and with a negative goal-difference in triple figures.
A short video released in October by independent film-maker James Baines went behind the scenes at Claggan Park and shone a light on the importance of Fort, who joined the Highland League in 1985, to the community. It was used by Cox as his introductory video for the challenge and he has become a devout fan.
He said: "You forget when you follow a big team what it means to be part of the game at grass-roots level. It's not about business and money; it's about passion for playing football and the community. I know their main slogans: 'Fort William 'til I die', and 'Mon the Fort!'"
Cox, who lives in County Down, Northern Ireland, has purchased a hat and scarf from the club's new online merchandise store and urged his subscribers – the Loki Ultras – to do the same.
He added: "I sent them a message and told them to get it done quickly, because my subscribers are generous."
For more information or to donate to the justgiving page, visit Loki Doki's account on Youtube.