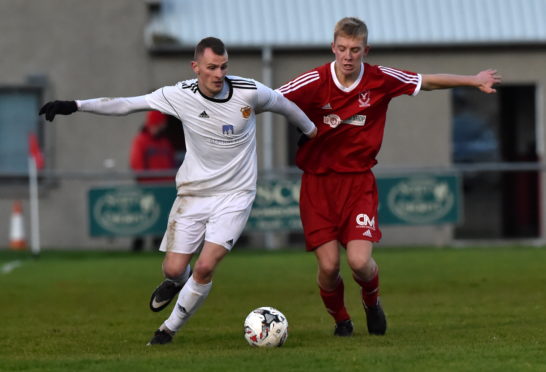 Rothes will be without top scorer Jaime Wilson for the rest of the season after he agreed to join Australian side Northcote City.
The 21-year-old, a former Caley Thistle player, has netted 13 times for the Speysiders this season.
But the forward has been released from the remainder of his 18-month contract to fulfil dream of playing in Australia.
Wilson said: "I have fancied doing this since I left Caley Thistle so I'm off next week to join Northcote City in Melbourne who play in NPL 2.
"They're also going to help me get a job over there. I'm a lifeguard here so hopefully that will prove to be fairly easy.
"I never thought that it would be possible but now that the opportunity has presented itself I had to go for it as it's the chance of a lifetime.
"I've enjoyed playing for Rothes in the Highland League but if I hadn't taken this chance I may never have had the opportunity again. I feel that it's too good an opportunity to turn down.
"I've got to thank Rothes for releasing me from my contract. The season over there ends in September so all being well I'll be back at Mackessack Park to rejoin my team-mates just a few weeks into the 2019-20 season.
"I've already told the players and my manager Steven MacDonald that when I do come back it will be to Rothes, as all my best mates are there."
Rothes boss MacDonald said he was never going to stand in Wilson's way, having made a similar move himself during his playing days.
He said: "I went out to join a club in Sydney when I was 20 and it was a dream move for me.
"Jaime is getting better all the time, sometimes you see that with boys who have come from full-time football.
"It can take them a little while to adjust, but in the last couple of games he's really showed his worth. It's a chance in a lifetime for him. He may do well and progress to the next level.
"When he does return he'll not only be a more experienced player but he will be more experienced in life as well."
Rothes chairman Iain Paul was disappointed to lose a key player.
He said: "It's come totally out of the blue but we couldn't stand in Jaime's way. I believe he has had a hankering to do something like this ever since his Caley Thistle days.
"I think he feels the need of having a life experience and we can understand that he doesn't want to regret not taking the opportunity now that it has come along. We'll certainly welcome him back to Rothes with open arms."