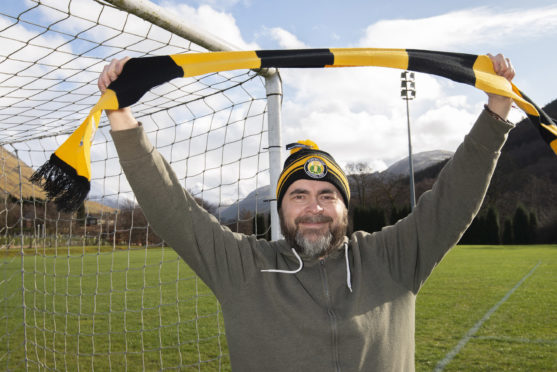 Jon Cox hopes his Football Manager fame with Fort William can help build a sustainable legacy for the club.
The avid player of the popular video game series spent last Saturday at the Highland League club, after raising more than £5,000 for Fort through his YouTube channel.
Long-term plans to draw money into the club were discussed during Cox's visit to Claggan Park, with Fort rooted to the bottom of the league with a negative points tally and with a minus 171 goal difference. They have not won a game all season after opting to remain in the division last summer, rather than dropping into the North Caledonian League.
Cox has offered to help Fort going forward, with subscription service Patreon, which allows businesses to run a membership service that generates income as well as providing subscribers with exclusive experiences, suggested.
He said: "I think they realise the power of the internet and how it can help them. There's a few young guys there that are tech savvy and while we can do these nice handouts, you don't want to be doing one every six months.
"We were talking all sorts of things through – there's a lot of avenues they could go down to become more sustainable."
Cox flew over from his home in County Down, Northern Ireland, with his partner Curly on Friday and filmed snippets for a BBC documentary on Fort William, due to air later this year.
With a YouTube channel that has over 40,000 subscribers, Cox, who goes under the online moniker of Loki Doki, has taken Fort to League 1 on Football Manager 2019. He is now in the 2025-2026 season and regularly posts updates of his progress on the channel.
The level of interest generated has surprised him and even though Fort's game with Forres Mechanics was postponed last weekend, he hopes to be back in Lochaber in the future.
He added: "It was a brilliant experience, meeting up with the directors, players and filming. We stayed in a holiday chalet that one of the directors owns said we could come back any time.
"I got to sit in the dugout and speak to the manager; I asked him how do you pick players up for the next game after just losing 14-0?
"I'm definitely continuing with the game. I've got to beat Celtic – we went past a big Celtic shop and I thought 'I'm coming for you!'"