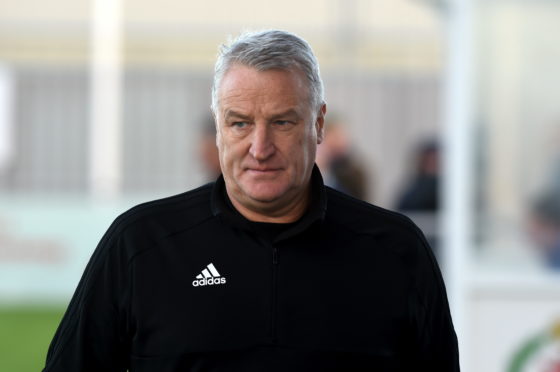 John Sheran, manager of Highland League champions Cove Rangers, has suffered a heart attack.
The 58-year-old took ill at his family home on Sunday, the day after his club was presented with the Highland League championship following their 2-1 win against Clach at Balmoral Stadium.
Former Peterhead and Montrose manager Sheran is recuperating in hospital in Aberdeen after having two stents inserted to aid his recovery.
Cove Rangers chairman Keith Moorhouse said: "Everyone at the club sends their support to John and wishes him a speedy recovery. We would request that everyone respects his desire for privacy."
Sheran's health scare comes on the eve of the club's SPFL Pyramid play-off semi-final against East Kilbride, with the first leg due to be played at East Kilbride on Saturday.
East Kilbride manager Stuart Malcolm said: "Health is more important than football and everyone at the club is thinking of him and wishes John a speedy recovery.
"I've never been in this situation before a game where somebody has taken ill to this extent, so it's a bit of a shock.
"It's very sad news and we wish him well."
Sheran's admission to hospital comes three years after his father died on the night the Cove manager was guiding his club to the league title against the same opposition they faced on Saturday, Clach.
Highland League secretary Rod Houston said: "Everyone in the Highland League is shocked and saddened to hear of John's illness and we all wish him a speedy and complete recovery.
"John has been a distinguished and significant figure within the Highland League and we hope to see him back in the dugout in the near future."
Aberdonian Sheran has been manager of Cove since 2014 and has led his club to league championship glory in three of the last four seasons.
A member of Montrose's Second Division title winning squad of 1984-85, Sheran played more than 300 games for the Gable Endies and also served as assistant manager to Kevin Drinkell prior to taking charge of the club in 2000.
Sheran was named Cove manager in 2006, guiding the club to two league titles in 2008 and 2009 before stepping down citing work and family commitments.
He returned to the game as manager of Peterhead for six months in 2011 prior to rejoining Cove where he has guided the club to sustained success.
He has won the league title three times, the Highland League Cup three times, Aberdeenshire Cup and the Aberdeenshire Shield since returning.