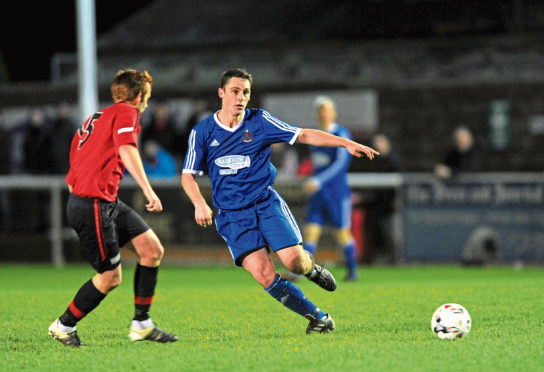 While his Cove Rangers team-mates were carving out a valuable 2-1 pyramid play-off first leg lead at East Kilbride on Saturday midfielder Grant Campbell was in the stand contemplating his future.
The 29-year-old former Wick Academy player also missed last year's play-offs against Spartans and then Cowdenbeath with the same cruciate ligament injury that has since blighted his hopes for comeback.
A frustrated Campbell said: "I'm really struggling now, I did have a go at coming back a couple of months ago and at the time it seemed to be going well.
"But since then I've suffered a setback or two and I've certainly regressed from about November time.
"I'm trying to look for options in an effort to try to save my football career but I really am up against it.
"The problem is definitely one of 'range of motion;' I can get up to speed after a while in the warm-up but the following day I am always significantly worse.
"Unlike my Cove team-mate Sam Burnett, who had the same operation as myself but is now back in the side, I had to have an additional small operation not long after the first, as they had to clear out a bit of grit. Range of motion has been a real issue for me but right from the start it hasn't been for Sam."
The Aberdeen-based tax adviser added that he needs full mobility to maintain the swashbuckling style which had made him one of the best midfield players in the Highland League.
Campbell added: "If you take away the aggression and enthusiasm from my game you remove quite a lot of what I'm all about, so I need to be feeling 100% or I'm not going to be able to contribute in a way which makes me effective."
Cove defeated Kilby 2-1 thanks to goals from Harry Milne and Scott Ross with the return leg at Balmoral Stadium this Saturday at 3pm.
Campbell said: "I've got to sit tight, wish the boys all the best in the pyramid play-offs and hopefully I'll work with the club to see if a solution can be found over the summer. If not then there might be a difficult decision to make.
"Football has been great to me, so I would be reluctant to give it up, but I am in a position now where I work many hours and I have a couple of kids at home.
"It's a case of weighing all these things up and trying to reach the right conclusion."