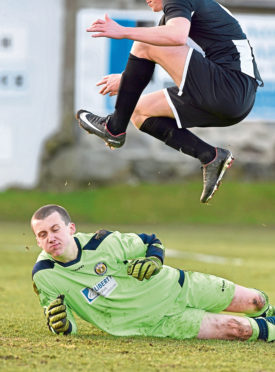 Fort William boss Russell MacMorran insists last season's squad remains part of his plans – despite the arrival of nine young players from Caley Thistle.
As part of a new initiative between the two clubs, nine members of Inverness' successful under-18 squad have joined the Lochaber club for the season.
The Caley Jags' bid for a colts team in the Highland League was rejected over the summer and they wanted to get the youngsters senior experience.
Fort were open to the idea and while it boosts McMorran's squad for today's league opener against Brora Rangers, it does not cast aside existing members of the side.
He said: "It's a mixture of emotions, really.
"The club now finds itself in a great position moving forward. That's what it's all about.
"So to enter into this agreement with Caley Thistle is a great thing for ourselves.
"It won't just benefit the lads who are coming down on loan, it will also benefit the core of players we already have at the club and I expect them to bounce off each other.
"I've read a lot of things which have been said on this move, both for and against, but I'm not going to get too hung-up on the politics of it all. The main thing for myself is that we now have a very competitive squad.
"My job is to put the strongest possible side available out to represent Fort William Football Club on a Saturday and I will do that.
"I felt that last season the lads showed great determination and resilience.
"These guys are still here, they're not going anywhere and I've made that very clear to the lads that they're still very much in my plans."
The move has given Brora boss Steven Mackay something of a headache, although he thinks it is a good move for the Highland League as a whole.
Mackay said: "It's now a completely different proposition, that's for sure. We played Caley Thistle in a friendly last Friday night and a lot of the lads who are set to go on loan to Fort William played in that game.
"We caught wind of the possibility of this happening that night but we weren't sure if it was all going to go through in time for Fort William's opening game against ourselves at Dudgeon Park tomorrow, but obviously it has.
"If I'm being honest I'm all for this move. As a youngster I personally came through something quite similar.
"It was great for experience and it certainly toughened us up."