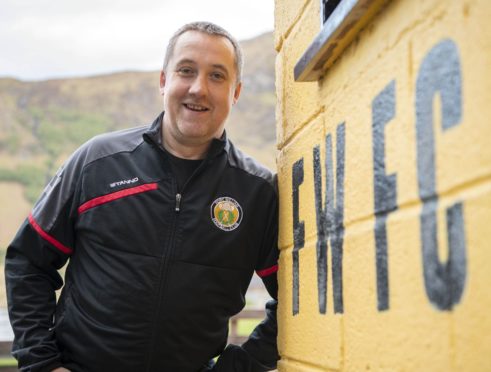 Fort William are finally off the bottom of the Highland League – and manager Russell MacMorran is confident they are there to stay.
Fort ended a wait of nearly two-and-a-half years for a league victory when they defeated Clachnacuddin 1-0 at Claggan Park on Wednesday night, moving them three points clear of the bottom-placed Lilywhites.
MacMorran believes his side is capable of building on the triumph, and he said: "We are off the bottom of the table – and I don't foresee us going back down there.
"Football is funny, anything can happen, but you now find clubs such as Clachnacuddin and Huntly who are in our position where we were last season.
"Trust me, it's not a nice place to be. Unfortunately for Clach, they will be feeling they have been beaten by Fort William who historically were the worst team in the league.
"We have now shown this season that is not the case. Teams don't want to come to Claggan Park now, and that was the main aim. It's not going to be the case they run away with as many goals as they can."
Although Fort had won two North of Scotland cup ties this term, Wednesday's triumph was their first league victory since a 4-1 win over Strathspey Thistle on April 12, 2017.
MacMorran says the victory was a moment to cherish for the squad, of which nine players are on loan from Caley Thistle, with the Fort boss adding: "We were always very positive it was going to happen, and I suppose it's all the better that it came against the closest local rivals we have.
"You don't get rewarded for great play and no results.
"It gets that monkey off our back. It's a new squad and all but a new club, with the way it has been run.
"It gets rid of that hoodoo for them, and we can only move on now."
Midfielder Robert Nevison captained the side to their momentous victory, which the former Berwick Rangers player described as the pinnacle of his career.
The 27-year-old, who joined Fort last season after moving to Inverness from Edinburgh with the Black Watch army regiment, said: "It's a really proud moment – probably the best of my career.
"It was a long time coming. We have played some really nice football this season.
"The win takes a lot of pressure off us. We feel now we can push on and get a couple of wins on the bounce to hopefully move up the table, as we are not a bottom of the table team this season.
"It's hard to stand our worth against the likes of Brora and Fraserburgh, but it's a massive improvement from last season.
"We are looking for baby steps to walk before we can run."