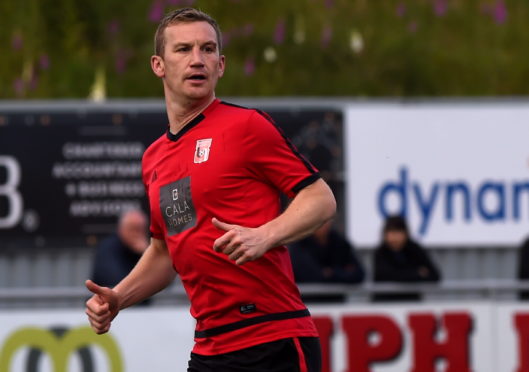 Inverurie Locos centre-half Eric Watson has apologised to his manager Neil Cooper after footage of Saturday's Scottish Cup first round tie appeared to show the former Cove Rangers captain head-butting Wick Academy striker Davie Allan.
Cooper said had not seen the incident during the game or in the match highlights afterwards. It had come to light through a video posted on social media on Monday evening.
Watson, who moved to Harlaw Park in the summer after helping Cove into League 2 for the first time, has spoken to Cooper and offered his apologies.
Cooper said: "Nobody saw anything during the game. I asked my players and coaches and nobody admitted to seeing it. I watched the incident on Sunday night with the highlights of all the other games, and I watched it again on Monday I never saw anything.
"But yesterday I was taking phone calls from various newspapers and I've seen the incident again. Obviously there is a coming together and they were head-to-head, but the Wick Academy player got up quite quickly after they players collided.
"I've since spoke to Eric and he knows that he was wrong doing that and he has apologised to me for the incident, as it is important to me that we keep 11 players on the park every week. I've no time for silly challenges which can leave you a man down."
The incident occurred in the build-up to Locos' first goal, scored by Chris Angus on his way to a hat-trick. Wick were ahead 2-0 at the time but Locos came back to win 3-2 and book their place in the second round. Cooper admitted that the Scottish FA may cite Watson over the incident.
He added: "If the SFA decide to take this further then that is their call. Eric knows himself that he shouldn't have done what he did but over-reactions happen all of the time on football pitches."
Cooper's side were drawn against Rothes on Sunday night in the second round. They host Brora Rangers in the Highland League at Harlaw Park on Saturday.
Watson has already served a three-game suspension this season after being sent off against Turriff United last month.