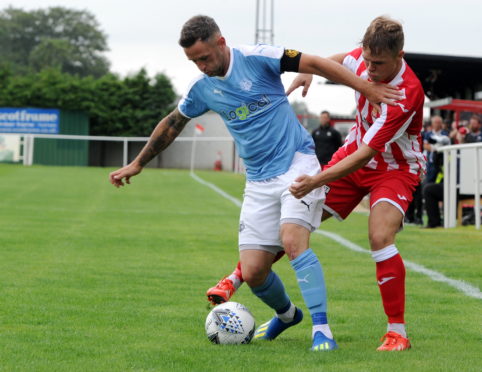 Recent signing Gregg Main loves being part of the new regime at Mackessack Park under new Speysiders manager Ross Jack.
The experienced 32-year-old midfielder, who arrived at Rothes in August after 14 seasons with Nairn County, said: "It's a case of so far, so good, at Rothes, apart from getting beaten earlier in the season by my old club Nairn County but hopefully we can avenge that one later on this term.
"There is a really good spirit in the dressing room, everyone is really loving training under the new manager. It is different to anything I've experienced before but really, really enjoyable and everybody is buzzing.
"As soon as Ross Jack was unveiled as our manager straight away he gained the respect of every player, and you certainly know where you stand with him.
"He came in and put his cards on the table. He told us how it would be and if any of us has a problem we'll go and speak to him – but everyone so far is loving it."
Reflecting on Saturday's 2-1 derby win at Strathspey Thistle, Main said: "It was an important win as those three points won in Grantown saw us leapfrog Inverurie and Nairn to fifth place.
"It wasn't our best performance but as the gaffer said at half-time, just win, that was what it was all about.
"Just after the break we scored two in two minutes and kind of killed the game. If we had managed to score another we may have gone on to win more comfortably, but sub Steven Anderson's drive came back off the post, that was unlucky.
"We came through in the end to claim a very important three points."