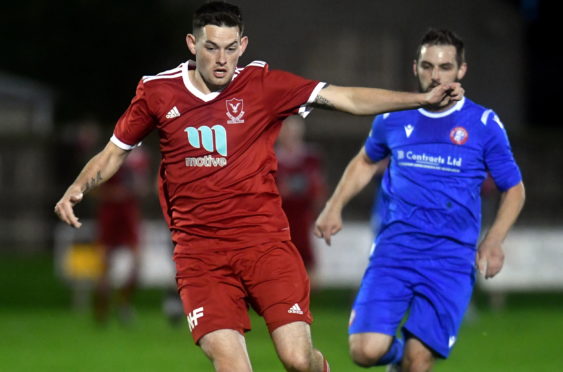 Deveronvale's Colin Charlesworth is relishing locking horns with his best man Liam Archibald at Lossiemouth on Saturday.
The two players were team-mate at Grant Park and latterly at Deveronvale, before Archibald returned to Lossie and Charlesworth headed for Inverurie Locos.
The weekend's hosts are sat at the bottom of the table ahead of the visit of one of their former players.
Charlesworth said: "I will be up against a couple of my best mates on Saturday including Liam Archibald who was best man at my wedding so I am looking forward to going back but it is always difficult and a good challenge there as they will also be seeing this as a chance to claim some points as we are both in the lower part in the league at present.
"First and foremost though my loyalties are with Vale but after the game I will have a couple of drinks with them hopefully with the points in the bag."
Winger Charlesworth is delighted to see the club move up the Highland League table after he felt that their performances were not bringing the rewards he thought they deserved in the early stages of the season.
Until last week Vale had only won one league game since the start of the season but consecutive victories over Turriff United and Strathspey Thistle has seen the club move into 11th position in the table.
Former Inverurie Locos and Lossiemouth player Charlesworth, who is now in his second spell at Princess Royal Park having returned to the club in March, has played a big part in the clubs last two results by scoring three times and is now hoping that Vale will kick on starting with Saturdays visit to his first club Lossiemouth.
Charlesworth (28) said: "It has been a tricky start to the season as we have not been playing badly and maybe deserved more in games against the top teams we have faced so far but our run of games we are on at present are ones we need to be winning.
"It has been great to score a few goals despite me still carrying a back injury from the end of last season, which Steve Dolan and the club have been helping me manage which can only help both myself and the team.
"I think our position in the league up until this week has been pretty false and with a trip to face my old club Lossiemouth this weekend I am hoping our current run can continue."