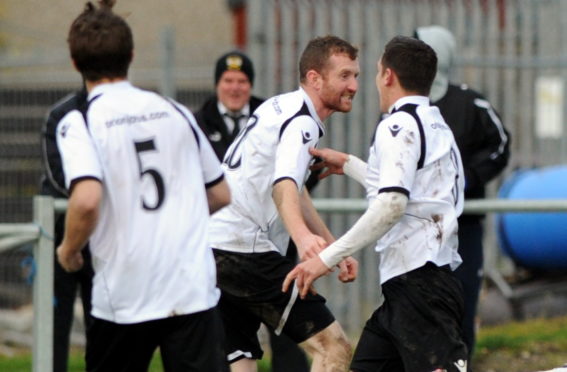 Veteran Highland League striker Scott Graham has confessed this year's campaign at Clach is the "most bizarre" he has ever had in the Highland League.
The Clach frontman said he believes team-mates at the Grant Street club will possibly think he is a jinx, as the Merkinch side have already had to overcome disaster at their home ground after a devastating blaze ripped through part of their stadium.
Graham though, who has plied his trade with seven different clubs in the Highland League, holds high regard for his current employers for their ability to adapt in times of adversity.
The 32-year-old said: "It is definitely the most bizarre season I have had in the Highland League. The boys at the club will probably be thinking I am a bit of a Jonah.
"I only signed in November and then the fire came in December and then this as well. It's definitely the strangest season I have been involved in.
"Even before this, because we have played quite a few games, we ended up with a few free Saturdays and we have not really been able to get a run going and build momentum.
"It's weird having a lot of time off and then this has happened, so I think it would be fair to say we are just trying to get this season done with to be honest which will allow us to look forward to next season and start again. But obviously that is easier said than done at the minute."
Graham added: "The big pull to coming back to Clach was that it is just like a big family. Everybody sort of pulls together.
"They do seem to hit bad times probably more often than you would like but they always come out the other end stronger.
"They are not at the standard that they maybe were first time around, in terms of the table, but they are implementing good values in trying to get youth through. They are trying to do things right, so it is good to be a part of and it's great to be back here."
The front man is currently self-isolating for 14-days with his family during the coronavirus epidemic.
Like many, Graham is struggling to find a plug for the void football has left in his everyday life. However, he feels he may have found a solution in watching live matches from Australia, where he had two brief spells during his extensive career.
He added: "I have been getting up early to watch the Australian A-League because that's the only live football on at the moment.
"To be fair, when I was over in Oz I wasn't really into it at all because English football is so big over there. You are still able to see the Scottish football as well but I didn't really get into it. Purely because it is on in the morning I have been sneaking it in to get that football fix.
"The defending leaves a lot to be desired at times but it's quite good because watching games you see ex-pros who played in Scotland cropping up. Gary Hooper scored a couple the other day and I have also seen Scott McDonald on there, so it is littered with players you kind of know that are past their time over here."