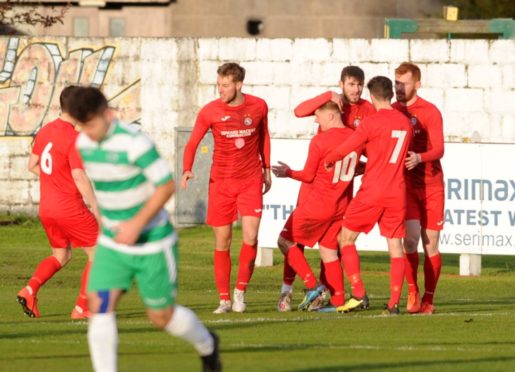 Crowning Brora Rangers champions of the Highland League was the straightforward part of the equation.
The Cattachs now find themselves entangled in the same uncertainty that has gripped the rest of Scottish football for the last fortnight.
The decision to award Brora the honours was a unanimous one among member clubs at a meeting in Lossiemouth on Saturday. The fact it was Fraserburgh – who posed the greatest threat to the Cattachs – that tabled the motion underlines how convincing the Sutherland outfit had been in their march to the title.
Brora had won 24 of their 26 league matches with only six games remaining. That was enough to clock up a 13 point lead, with two games in hand over second-placed Inverurie Locos.
Having already won the North of Scotland Cup earlier in the campaign, the Cattachs' title triumph means they remain on course for a treble, with their Highland League Cup semi final at home to Buckie Thistle to be played in the early stages of next season.
Steven Mackay's side deserve huge plaudits for their performance over the course of the season, so it was in nobody's interests to be stubborn about how many points were left to play for.
The Highland League perhaps had the advantage of having no relegation consequences to factor in when ending the season, but the member clubs should nevertheless be commended for coming to such a conclusive agreement at a time when football ought to be no more than a trivial issue.
It remains to be seen whether the Lowland League will take the same stance by awarding the title to leaders Kelty Hearts. Their lead is a much narrower six points however, while second placed Bonnyrigg Rose have both a game in hand and a home fixture against the Fifers still remaining.
Should Kelty be handed the title, they would typically face Brora for the right to face the bottom-placed League Two club – currently Brechin City – for a place in the SPFL. The pyramid issue has been complicated by talk of possible league reconstruction of the Scottish leagues however, leaving several different potential outcomes.
As well as the conventional pyramid play-off route, among the options that has been suggested is an expansion to a 14-team Premiership, which would involve the top two teams in each division being promoted with no relegation, and Brora and Kelty elevated to make up a 44-team SPFL.
Another option being discussed is the possibility of three leagues of 14, which would exclude promotion to the SPFL. The opportunity to compete for promotion has been a major lure for Brora when recruiting players, so they ought to at least be given that chance now they have held up their part of the bargain by winning the league.
The Cattachs now need the other organisations to move with the same conviction as the Highland League have done.