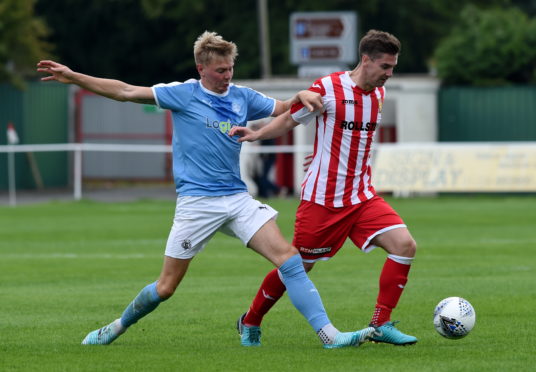 Nairn County skipper Adam Porritt is determined to reciprocate the local community's support for the club during the coronavirus outbreak.
Porritt led the County squad's drive to aid local residents in self-isolation on Saturday, making deliveries of shopping and prescriptions to those unable to leave their homes.
Porritt insists he and his team-mates can still make a difference to the community they represent while the football season is in shutdown.
He said: "The people behind the scenes at Nairn do so much for us.
"We would obviously rather be on the park playing football, but if you can't do that it's always nice to help out and do our bit for the community and backroom staff.
"A couple of years ago the club went through some financial difficulty when the owners left.
"The community backed the football club, so I think it's just a case of repaying the favour.
"We all reported to the stadium on Saturday, where we all got a list of jobs we had to do.
"Myself and a couple of the boys were sent to an elderly lady's house, so we went to get her shopping and some other bits and pieces.
"The whole squad turned up. It wasn't just the local boys in Nairn, all the boys from Inverness were through and outwith the area came through.
"It was a full team effort. We all wanted to come together as a team and community in Nairn, to try and help those that are not as fortunate as us to be sitting well."
Nairn County Football Club is committed to helping everyone in our community during this outbreak of Coronavirus in any way we can.
The players and staff at the club have offered to run errands on Saturday between 10.00 am and 5.00 pm for anyone in Nairn who is self-isolating.1/2 pic.twitter.com/uNnBWHnf9b

— Nairn County FC (@NairnCounty) March 19, 2020
Porritt also handed over Nairn's fines fund, which totalled several hundred pounds, to help pay for essential items for those most in need.
The 26-year-old added: "We donated our end of season night-out money, just to help the cause.
"It was better off in their pockets than in ours, at the end of the day.
"There had been fines for various things, such as nutmegs. We have a blue tracksuit, so if you wear black trainers there's a fine.
"There are just little things like that, but they certainly add up.
"We had a good figure to hand over which was nice."
Nairn were eighth in the Highland League before games were halted on March 13, with member clubs opting to cut short the season last weekend.
Porritt feels Ronnie Sharp's men gave a strong account of themselves in the 22 games they completed, adding: "Our season is totally finished now.
"It's good in a way, but we would have liked to see where we would have finished if the season had continued.
"We had a good season, so we were quite disappointed we couldn't get to finish it.
"But we would rather finish safely than keep going.
"It's quite a lay-off from we've got now.
"In a way it's quite nice that we can spend some time with the family, but the bottom line is we all want to be back playing."