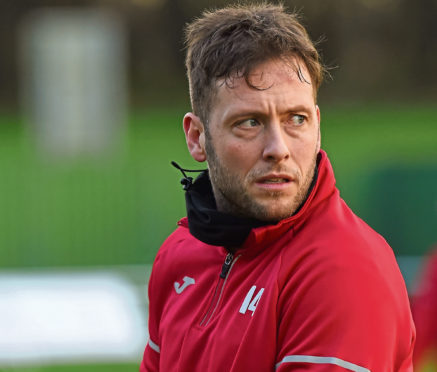 Paul Lawson is already planning for next season, but says the coronavirus pandemic has had an impact on Formartine United's finances.
The Highland League was declared over after a vote of the clubs last month, with Brora Rangers champions.
It is not known when football will resume, but Formartine are making tentative plans for the next campaign.
This includes discussing new contracts with members of the squad. Winger Andrew Greig penned a new deal recently and Lawson is in talks with other players.
But the former Ross County midfielder says United's budget has been affected by the Covid-19 outbreak.
He said: "We were pleased to get Andrew's contract sorted out. It's obviously an uncertain time and nobody knows when next season will start.
"But we still need to plan and that's what we're trying to do.
"There are a few other boys that we're speaking to and looking at the situations.
"Decisions are going to have to be made and we're no different to any other club; the current situation will affect us financially.
"We'll have to look at that and decide on things like the size of squad we can operate and things like that.
"There's lots of decisions to be made and we don't want to rush into things.
"We do have a bit of time, but at the moment we're still planning as if we're starting back in pre-season at the normal time.
"Myself, Russell Anderson (assistant manager) and the chairman are in discussions and looking at what we want to do moving forward."
Lawson admits talking to his players about contracts has also become more difficult because of coronavirus.
With the country in lockdown, squads are unable to train together and Lawson is unable to speak to his players face-to-face.
The 35-year-old prefers to have important conversations in person and added: "It's frustrating and different not being able to speak to players face-to-face.
"I like to speak to the boys in person about these things. It's not a 20-25-minute conversation, it's just a couple of minutes during training, maybe after a stretch or something and have a quick word."
He added: "Face-to-face conversations I always feel are better, but ultimately we have to get on with the situation.
"If it comes to not renewing someone's contract, that's a difficult decision to have over the phone, which is frustrating, but we're all in the same boat and need to get on with it as we best we can."