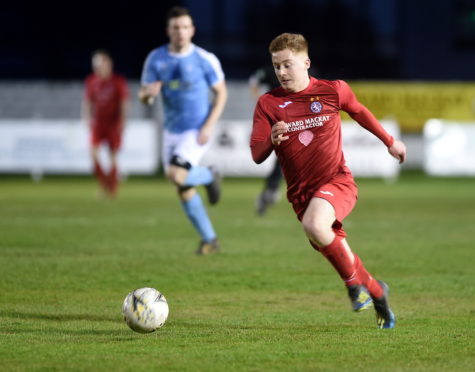 Andrew Macrae hopes to get a crack at the SPFL this year with Brora Rangers – but is not optimistic they will be offered a place.
Brora striker Macrae, who won the Highland League player of the year award yesterday, fears money will be a determining factor in keeping the Cattachs and Lowland League champions Kelty Hearts out of the SPFL amid reconstruction talks.
The Sutherland club and Kelty are on the outside looking in on these discussions. Chairman William Powrie and manager Steven Mackay – who also won Highland League manager of the year – are keen to see Brora's success rewarded, after the scrapping of the pyramid play-offs.
Macrae did not get the opportunity to play in the SPFL during his younger days at Caley Thistle and hopes that can be put right.
He said: "If we go up, I want to do it all with Brora. I would like to do that and get another crack at it, as I always like to challenge myself and see where we are as a team. It might not be this year but it could be next year.
"I would be gutted but at the same time, it is what it is. You've got to respect the decision – this has not happened before.
"It doesn't look like us and Kelty Hearts are going to get the opportunity to come up. It's probably right for Scottish football to let us up but as always, it comes down to money.
"I don't think it will take away from the season we've had. The team will be alright and we'll just have to go again next season."
Mackay and Powrie have remained in regular contact over the lockdown period, with no outcome yet on what the SPFL's reconstruction group would propose for the 2020-21 season.
The Highland League is represented on the group by its secretary, Rod Houston.
Mackay said: "It will come down to what the SPFL want and if they do to welcome us and Kelty Hearts in, that gives us an opportunity. If not then that will close the door for us, which will be bitterly disappointing but we just want to know what league we'll be playing in.
"We hope the right decision will be made in the next week or so but if not, we're not going to cry about it. If we're playing in the Highland League next year then so be it – our ultimate goal is to be in the Scottish league and challenge League 2 teams, as I think the squad we have is ready for it."
Brora and Kelty were both declared champions after meetings of their respective league committees, with the season unable to be played to a conclusion.