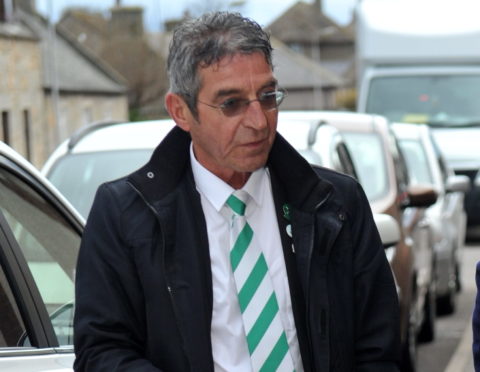 Buckie Thistle president Garry Farquhar cannot see Highland League football resuming this year.
Farquhar reckons the necessity for social distancing and need for people through the gates at this level means it cannot be sustainable until the measures are eased.
The Highland League was one of the first leagues to end its season and declare champions, with Brora Rangers named as winners at a management committee meeting in March.
Other leagues have since followed suit, with the Scottish Premiership the latest to do so.
Playing behind closed doors has been suggested as a way for football to resume higher up the Scottish pyramid, where broadcast revenue would still be relevant. However, in the Highland League, footfall, hospitality and sponsorship provide a much bigger resource.
Farquhar does not see a ball being kicked in the division this year and hopes all clubs can survive the extended shutdown.
He said: "I think it's going to be into next year. It's that serious. It's absolutely pointless playing without spectators; that, along with hospitality, is your income.
"That's my personal opinion, but it's just the way things are going across Scottish football. There's going to be some clubs going out of business.
"Behind closed doors is just a non-starter to be honest. Most Highland League grounds I'm aware of could cope with social distancing. They are big enough that people could easily be two metres apart. But how do you manage it?
"The dressing rooms aren't massive, so players are going to be in a close proximity. Until it (social distancing) is completely relaxed, I can't see it happening.
"I think it's going to be a struggle for most clubs. Most clubs rely on a financial benefactor of some sort, putting in a higher amount of money than what the club ordinarily makes. I don't know if there's any profit-making in Highland League clubs and some will be better-placed than others.
"But it would be horrendous to see any club go out of business."
Buckie have benefitted from fundraising by supporters over the last couple of months and have furloughed their playing staff.
But if Farquhar's worst-case scenario were to come to fruition, that would mean at least nine months for Highland League clubs without any means of income.
He added: "We still don't know 100% what's happening with Brora yet. At the moment we're assuming they're still going to be in the league and it's a case of who else is going to be around. Will any teams go by the wayside?
"We have had some great fundraising at Buckie that has brought in £1,000 here or there. It often tends to be the same people over and over again and it comes to a point where you feel embarrassed when you keep asking."
Inverurie Locos chairman says behind-closed-doors action is a 'definite no-no'
Playing behind closed doors in the Highland League is a "definite no-no" for Inverurie Locos chairman Mike Macaulay.
Resuming football without crowds has been suggested in Scottish leagues higher up the pyramid, but it would rob Highland League clubs of their main source of income.
Like most leagues, they are without a clear sense of when they may be able to resume playing, given the necessity for social distancing measures for the foreseeable future.
"We have had so many different dates," said Macaulay. "One thing that's a definite no-no – and I think this goes for most Highland League clubs – is playing behind closed doors. That just wouldn't work at all.
"Apart from the economic side of it, with social distancing and gatherings, you can just imagine trying to get 25 people (teams and officials) on to a park, or even just getting them on to a bus to travel to a game.
"There's just so much to think about and a lot of it is going to be down to legislation."
Macaulay agrees with Buckie Thistle president Garry Farquhar in that it could be 2021 before the Highland League could resume. He does, however, believe that the majority of clubs will come through the other side of this.
He added: "As far as football is concerned, we really don't know when we're going to get back playing, if we're going to get back playing this year.
"Until we know what the situation is, we can't really fix anything.
"We operate in a league where we generally wish to work together to make it as good as it can be.
"I think the Highland League has been extremely lucky to have sponsors like Alan Mackenzie and Breedon Aggregates, as they have been tremendous."