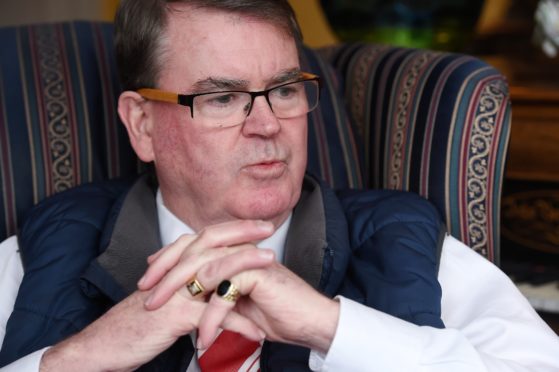 Brora Rangers chairman William Powrie has finally admitted defeat in his hopes of seeing the Cattachs promoted to the SPFL next season.
Highland League champions Brora and Lowland League winners Kelty Hearts were both denied promotion when the 42 league clubs voted to end the season due to coronavirus, with the pyramid play-off involving bottom League 2 club Brechin City not going ahead.
Discussions over league reconstruction have renewed Powrie's hope of elevation in recent weeks, however the league governing body yesterday confirmed it will begin next season with the status quo of a 12-10-10-10 setup.
Powrie has been left frustrated by the Dudgeon Park outfit's pathway into the league system being blocked, and he said: "I'm disappointed by the outcome, but not entirely surprised.
"I think this is closure, I don't think there is any way back now.
"It has been exceptionally frustrating. As one proposal has come and gone, your hopes are raised then dashed, before finally being extinguished with this vote.
"We have had no say. We have worked extremely hard to try to canvass clubs as best we can, but everybody is looking after their own interests.
"I understand that, but I would have thought the solution where nobody is a loser would have been a good one to go forward.
"The pyramid system would have been something I thought the governing bodies would want to protect, and maintain its integrity, but they have decided otherwise.
"We'll just take stock over the next couple of days."
Powrie confirmed the Cattachs are unlikely to take legal action, after relegated Premiership club Hearts outlined their intention to take the SPFL to court.
Having been outwith the present SPFL structure, Brora were not involved in reconstruction discussions, however Powrie was left disappointed by the lack of information communicated to the Sutherland outfit.
Powrie added: "The problem is we don't get anything sent to us about this.
"We are only ever getting things second hand from people.
"Nobody from the authorities has contacted us or videoed us to say what might be, or what will be if it doesn't happen.
"Throughout this we have been totally detached. We are only picking up any information from any friends we have within current SPFL clubs who let us know what is going on.
"It just shows you what regard the Highland and Lowland League champions are held in by the SPFL board."