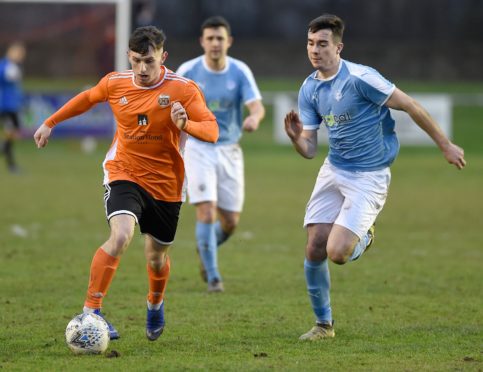 Rothes' top scorer Ali Sutherland believes the Speysiders can build on their progress last term.
Ross Jack's men lay fourth in the table when the season was ended due to coronavirus in March, although final league positions were not recorded.
Although any finish higher than sixth would have marked their highest placing since winning the Highland League in 1959, Sutherland believes his side can improve further.
Sutherland said: "I don't see why we can't look to go higher. Personally I just want to better last season, and as a team I think we can go one better again after finishing fourth.
"It was a bit unfortunate Brora never got the chance to go up, as I think they would have done quite well.
"If they had gone up it would have left another spot to get further up the table, as they are always contenders to win the league, but I feel we can still definitely improve on this season with the team we've got.
"We still had double-headers against teams around us, which could have gone either way but we were confident we could have got results with the way we were playing."
Sutherland was pleased with the consistency shown by his side, with the Speysiders enjoying an excellent run shortly after Jack replaced Steven MacDonald last September.
The 23-year-old added: "I couldn't put my finger on one thing, but I have really enjoyed playing under the manager. All the boys have really clicked with him and it's going well.
"We had a few bad results and performances throughout the season – but you could probably count them on one hand.
"Apart from that we were pretty consistent. It was just unfortunate not getting to finish the season and seeing where we would have ended up."
Sutherland is enjoying his football again after struggling for game time during a spell with Elgin.
He said: "I just wanted to get back playing football consistently again.
"I was quite confident the good performances and goals would come. I got 13 goals last season, which I was delighted with.''