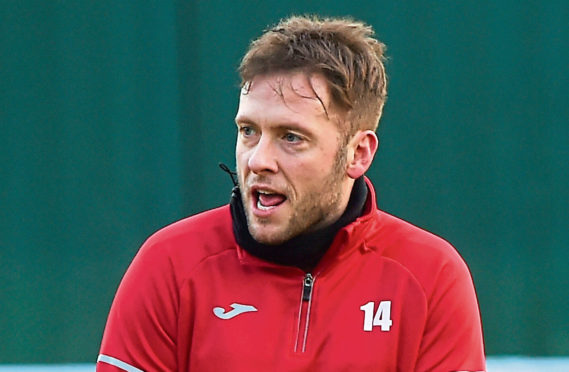 Formartine United manager Paul Lawson admits he is frustrated by the decision to delay the start of the Highland League season.
The 2020-21 season was due to start on October 17 but the league management committee voted on Monday to push that date back until November 28 at the earliest.
The decision was made due to the Scottish Government postponing the return of fans to football grounds indefinitely, having previously set indicative dates of September 14 and then October 5.
He said: "It is frustrating for the players and myself. A lot of people have put in a huge amount of work behind the scenes to get us back training and playing pre-season friendlies.
"At the same time, I can understand the reasons behind the decision.
"There is more life to football, although sometimes it doesn't feel that way.
"A lot of things have been put in perspective over the last seven months, but ultimately it is a feeling of frustration.
"The players have been working so hard in training to get ready for the new season and it has been pushed back again.
"The question now is how do we adapt to this? Do we keep training? We are looking at a number of options and it is early to decide what we are going to do."
Lawson feels Highland League clubs would be able to have fans back through the turnstiles in a safe and socially-distant manner and admits he struggles to understand why people can spend their Saturday afternoons drinking inside in a pub but they aren't permitted to spend 90 minutes outdoors watching a match.
He said: "I think that is the biggest frustration for a lot of people at our level.
Our panel discussed whether fans should be allowed back inside Highland League grounds on this week's Northern Goal podcast:
"A lot of things don't add up and we also have to remember the positive impact football can have on people's mental health.
"People enjoy going to play and watch football.
"It can be a release for a lot of people.
"It is a shame that people are going to have to wait a bit longer to get that back.
"But it does make it harder to understand some of the decisions when you look at some of the other things that are allowed at the moment.
"We have to go with what we are told and try to adapt as best we can."
Lawson added: "There are challenges in terms of transport and changing facilities, but I'm sure we would be able to put things in place to get the games going ahead.
"At the moment the players wouldn't be allowed indoors for a shower post-match, which I find baffling.
"You are asking boys to train or play a match when it may have been raining and then jump straight in a car.
"It can't be more hygienic to sit in a car wet and covered in mud than get a shower.
"But we just have to adhere to then guidelines, which we have been doing.
"We have played a few friendlies and we have one coming up on Friday against Arbroath and then that is it for just now.
"The question now is how do we keep the guys motivated when they keep getting knocked down.
"There was light at the end of the tunnel when we got back training and started playing friendlies and now it has been pushed back again.
"It is a difficult one."