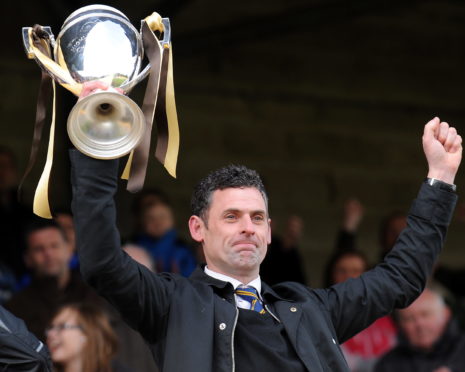 Forres Mechanics manager Charlie Rowley aims to prepare the Can-Cans for changeover after agreeing a new contract which will bring his long Mosset Park tenure to an end in 2023.
Rowley has agreed a two-year extension to his contract which was due to expire next summer, but he opted to turn down the offer of a one-year rolling contract thereafter.
The 51-year-old is the Highland League's longest serving manager having taken up his post in 2010, however his association with Mechanics as a player and assistant manager stretches back to 2002.
Rowley, who brought league title success to the club in 2012, believes the club will benefit from a fresh figurehead.
He said: "I was considering the possibility of not going much further in terms of my managerial career, simply because I'm well aware things might get a bit stale and a different voice could maybe help.
"The board put their points across and said they would like me to continue. After speaking to them it was a pretty easy decision to stay on.
"The more difficult decision was to put a deadline on my continuation. I felt after this current contract was up, I think it was in everybody's best interests to try and get somebody fresh in to try and take the club even further.
"It was not an easy decision, but I do feel it was the right one.
"The only reason I'm doing it is because I think it's in the best interests of the club.
"That was my main thought process. I could easily have continued but I'm just wary about things getting too predictable and suchlike.
"It gives me a wee break as well, because I will have been over 20 years with the club. That's no mean feat these days in a football environment."
Rowley is determined to keep Mechanics competitive in his final three seasons in charge, while also laying strong foundations for his successor.
Rowley added: "I'm not continuing just to dwindle down the years and go through the motions. There is certainly a plan in place to try and have a team capable of competing at the top end.
"It will still be about progression, and trying to build a squad that's pushing for silverware.
"We realise how hard that is, but it's certainly the intention to try to do that.
"A wee bit of silverware would be a huge bonus. We are not setting our stone out to say we must win anything.
"If I can leave with a squad I feel is capable of pushing at the top end among the top two or three, that would be a success from my point of view.
"We are actively trying to encourage younger individuals to the club, because we are a slightly ageing squad.
"It's not a quick rebuilding process, it's a gradual one for getting younger players in.
"If I can leave with a competitive squad which we can add to further down the line, I think that would be reasonably successful."
Rowley is not ruling out the possibility of continuing to serve Mechanics in an upstairs role, adding: "If I could commit, I wouldn't put off the thought process of stepping into some upstairs capacity.
"That remains to be seen, it's quite a bit off in terms of timescale.
"I've got no aspirations of plying my trade elsewhere, so it could be a case of continuation upstairs in some kind of role, but that's a big if."