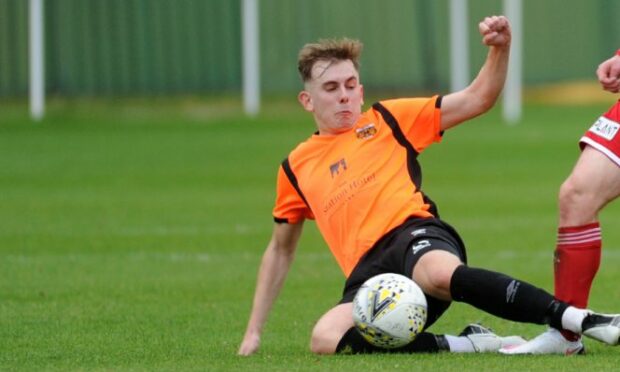 Fraser Robertson is determined to ensure the good times continue at Rothes.
Since joining the Speysiders in February 2019, the midfielder has helped them win the GPH Builders Merchants Highland League Cup and the North of Scotland Cup.
During that period the Mackessack Park club has also recorded the second highest Breedon Highland League finish in its history – third in the 2019-20 season.
Having recently penned a contract extension until the summer of 2025 Robertson is aiming for more glory.
The 26-year-old said: "Recently we've had a fair bit of success and we've got a good group of boys.
"So in my head there was no reason why I wouldn't stay for longer and try to build on the success we've already had.
"We've had our two cup wins in the last couple of seasons. It would be great to try to get some more silverware in the next few years.
"We're up towards the top end of the league at the moment but we would like to be a wee bit more consistent in the league to try to compete for the title.
"The Scottish Cup is a tournament where we've been disappointed with our performances.
"We had the chance to make it to the third round for this season for the first time in the club's history and we fell short.
"So to try to progress to that stage in the Scottish Cup would be another aim for us."
Great era for the Speysiders
Given the cup triumphs and consistency in the league it could be argued the last few years have been the greatest period in Rothes' history.
Prior to manager Ross Jack's arrival the club hadn't won anything since 1979 and came close to going out of business in 2015.
Robertson is proud to have been part of the Rothes revolution in recent times.
The former Clachnacuddin player added: "There's a lot of hard work that goes on at the club which people don't see.
"So to be able to reward these guys after the length of time they've had to wait for success is a really good feeling and the people at the club deserve it.
"We've got a good mix of young players and experience in our team and I think most of us are signed up.
"There's no reason why we can't continue to build with the core of the squad that we've got."