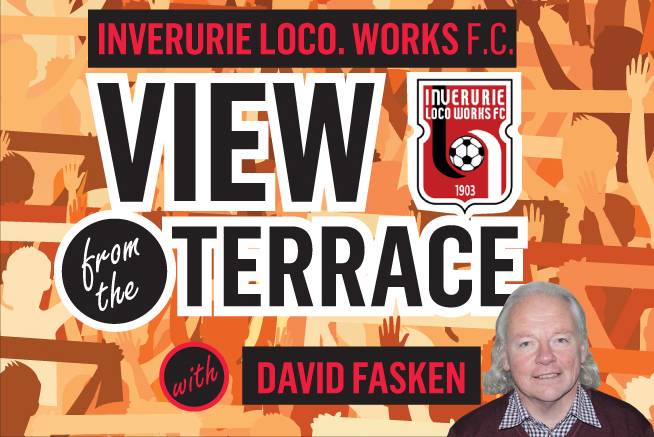 I had been looking forward to my visit to Claggan Park on Saturday and I was not disappointed. There was some early interest as I passed the team bus broken down on the A9 at Aviemore at mid-day. The team had already been cooling its heels for two hours by the time I arrived on the scene and several players were filling in time with an exhibition of "keepie-uppie" for passing motorists. Mind you, two hours stuck in a lay-by is hardly ideal pre-match preparation.
Thankfully a replacement bus was unearthed and everyone moved on. It was a glorious day and as I drove along Loch Laggan I spotted the "Chuff-Chuffs" supporters well ahead, masquerading as tourists (their words, not mine) taking photographs of the wonderful west Highland scenery. Their red and black "uniforms" provided a sharp contrast to the green hills around them. At this stage a football match seemed almost secondary to everything else.
We all persevered and arrived in time for a normal 3 p.m. kick-off, although it was nip-and-tuck all the way. Claggan Park was in the best condition I've seen it for many years and I looked forward to a closely contested game.
Referee Craig Walker put paid to that after only 20 minutes when he sent off Fort goalkeeper Robin Harvey for a last-man offence which resulted in a penalty. By the letter of the law it was a penalty, but a soft one, and surely the referee could have used his discretion and let him play on. Referees are, I understand, under considerable pressure to satisfy any watching supervisors. And yet once again we had a situation when, after travelling a good distance at not inconsiderable cost, we had an imbalanced match from an early stage. The supporters always come last.
As Martin Bavidge easily converted the spot-kick, everyone knew it was all over. Fort William were surprisingly weak at defending long high balls and Locos quickly picked up on that. It was by no means electrifying football from either team, but for Locos the 6-0 win against ten men was at least a much-needed boost. Young Daniel Crisp had a solid first start at centre-half, Mark Souter made a welcome return as substitute after injury, and Marc Young was the best player a-field. He often goes unnoticed, but he does a very effective job sitting in front of the defence. His tremendous energy and pace helped to nullify any forward threat from the Fort.
And so, it was a pleasant run home. As I passed the original team bus still sitting rather forlornly in the Aviemore lay-by, it struck me that I hadn't seen the replacement bus in the Fort William car park when I left the ground. I wonder if the team got home…..