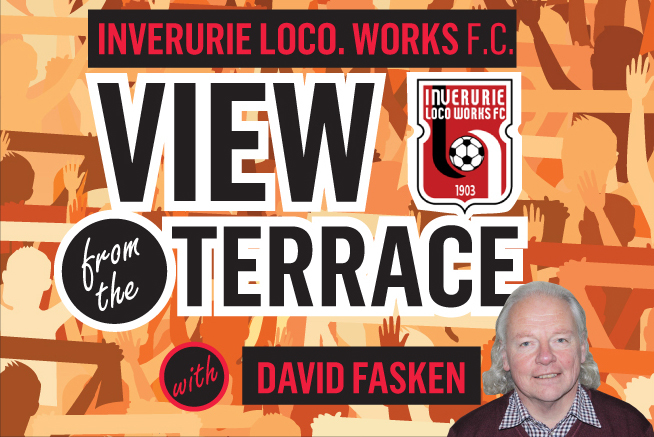 Harlaw Park in Inverurie witnessed another piece of football history on Thursday March 24 as Inverurie Loco. Works F.C. hosted the Schools Association Football International Board Under-18 Centenary Shield match between Scottish Schools and Welsh Schools.
This was the first time that Locos had been awarded such a fixture and a very respectable crowd of 821 were treated to an exciting game full of endeavour and not a little skill from both teams.
There was real sense of occasion and anticipation as the teams lined up for the traditional anthems in front of the main stand and were introduced to the local and national officials. These included Locos' Captain Neil McLean who acted as "ambassador" for the match. The Highland League was represented by Bradley Manson of Deveronvale, Liam Strachan of Turriff United, and Lachie MacLeod of Cove Rangers.
The early stages of the game were played at a furious pace but clear-cut chances were few and far between. Both goalkeepers, Fraser Morton for Scotland and Jacob Lloyd of Wales, looked confident and the former made a tremendous one-handed save to push a Nathan Woods shot over the bar following a defensive lapse.
Scotland's Seyon Koshoedo, currently playing with Aberdeen, was proving a tricky handful for Wales, but he was guilty of taking too long to release the ball to his team-mates, much to both their and the crowd's frustration. With some coaching, however, he looks a wonderful prospect.
Although Scotland exerted some pressure towards the end of the first period, Wales just looked to be slightly ahead of their hosts in that half. Lachie MacLeod, a youth player with Cove, replaced Mark Smith for the second-half, but on the hour it was Wales who took the lead as Ifan Jones netted a cross from the left from inside the area.
To their credit Scotland pushed for an equaliser but they just lacked that final composure in front of goal. Wales goalkeeper Lloyd tipped a Koshoedo free-kick over the bar in injury time to deny the Scots at the death and moments later the final whistle saw the visitors celebrate a fine, and on balance deserved, 1-0 victory.
Credit goes to all the players for such an entertaining match and to Inverurie Loco. Works F.C. for the excellent organisation. There was only one aspect requiring future attention. We, the Scots, need to brush up on our singing of "Flower of Scotland" as we raced ahead of the Inverurie Pipe Band!