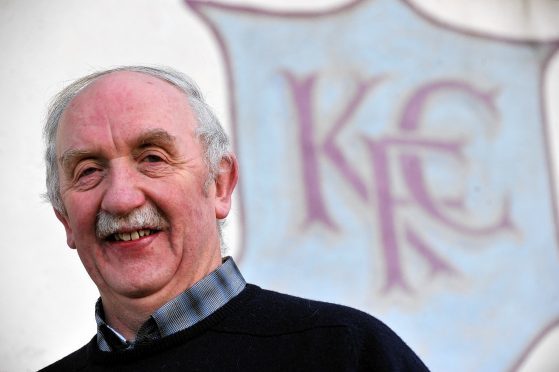 Keith chairman Sandy Stables has resigned his post, but will continue his 48-year association with the Kynoch Park club as honorary president and league management representative.
SFA councillor Stables has been suffering with health issues over the past few years and the Keith board have appointed chief executive Andy Troup as his successor.
Stables, who has been Keith chairman for almost four decades, making him one of the longest serving chairmen in Scottish football, said: "Winning three league titles in as many seasons from 1979 to 81 was the biggest highlight of time with the club.
"In those days the likes of Inverness Caley, Inverness Thistle, Ross County and Elgin City were the big teams in Highland League football so for a smaller club such as Keith to win the three consecutive titles was a fantastic achievement for everyone connected with the club. These days several of the league's bigger clubs are financed by a single backer, but in the late 1970s and early 1980s we did it with hard work, a thriving social club and the biggest lottery in the north, that is how we were able to finance a successful team and it worked well for us."
Stables will remain on the Highland League management committee and as the league's representative at the SFA, when he added: "I do my best to represent the interests of the Highland League at the SFA and have been instrumental in quite a few things, such as Highland League clubs being awarded places in both the League and Challenge Cups recently, and I will keep on working to promote our league as much as I can."
During Stables' time in the chair the Maroons won six Highland League titles, including three in a row from 1979-81, six Highland League Cups, two Qualifying Cups, three Aberdeenshire Cups and five Aber-deenshire Shields.
New chairman Troup said: "I would like to thank Sandy for his dedication and commitment to the club over the last 48 years and it goes without saying that everyone at the club wishes him well.
"It is very difficult to put into words the contribution Sandy has made, not just to Keith, but to the Highland League and Scottish football in general. His contribution over nearly half a century has been incredible."