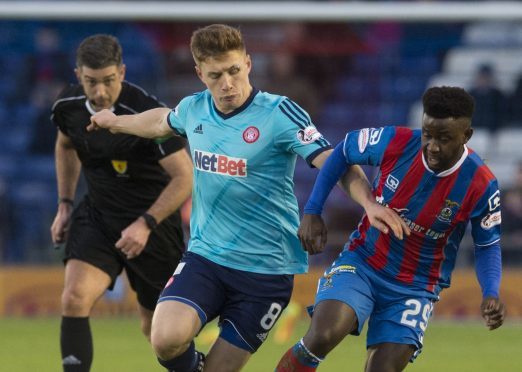 Caley Thistle loan midfielder Larnell Cole is still inspired by the words and influence of Sir Alex Ferguson as he tries to revive his post-Manchester United career in Inverness.
The Fulham player turned in a superb attacking performance in Saturday's 1-1 Premiership draw against Hamilton Accies in Inverness.
The 23-year-old's quality on the ball was apparent before and after he netted the equaliser with a spectacular shot in off the underside of the bar.
Manager Richie Foran is determined to arrange an extension to Cole's current loan deal which expires in January.
Cole was non-committal but is clearly enjoying the chance to break into the Highland club's side, with a second consecutive start the reward on Saturday after repeated substitute appearances.
Since moving to Craven Cottage, the Manchester-born former England under-19 and 20 international has demonstrated a willingness to mix it at a lower level in loan spells with clubs such as MK Dons and Shrewsbury.
But he values the education he gained at Old Trafford from early schoolboy beginnings in the youth academy through to his departure in 2014.
Ferguson handed Cole his only first-team appearance as substitute in a League Cup third round victory against Leeds United in 2011.
Cole said: "Fergie was manager at Old Trafford when I was there and I had plenty of dealings with him as he was good with all the players, at whatever age.
"I made my debut at 19 under him. I avoided the hairdrier treatment but I saw it as well. Everyone was so disciplined at the club and he was like a father figure. Everyone knew his place. No one was above anything.
"The grounding and the coaching at United was the best and that sticks with me.
"I believe I can go back to the level I started out at but I always carry what Fergie said with me and work hard, whether at Fulham, Shrewsbury or Inverness."
Cole, though happy to be playing, was frustrated at Saturday's outcome.
He said: "Some of the football was good but we didn't take our chances and we had some good ones to win.
"There is pressure but I thought we worked a lot harder. Results will come. We've also got a few players to come back who are injured and suspended."
Manager Foran was rich in his praise of Cole's contribution and confirmed he wants to discuss the possibility of extending the loan deal beyond January.
Foran said: "Larnell was excellent against Hamilton. He's been our best player in the last two matches, so I'll speak to him about staying beyond January.
"He's been a big plus for us with good fitness and sharpness and he's low maintenance with an abundance of quality."