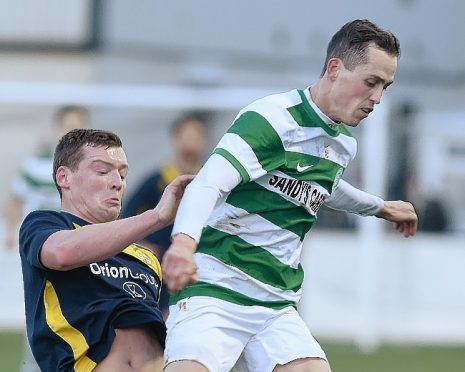 Caley Thistle manager John Robertson says Buckie Thistle's demand of a transfer fee for captain Kevin Fraser will rule out a move to the Highlanders.
Midfielder Fraser was given permission by the Jags to join Inverness on trial this week, in order for Robertson to take a closer look at the Highland League player of the year, who led the Jags to the title last season.
Buckie manager Graeme Stewart earlier this week warned Inverness that Fraser, who has three years left on his contract at Victoria Park, would not be available for free.
Robertson claims Buckie's stance is likely to end his interest in the 26-year-old, and could kill off Inverness-born Fraser's ambition of a return to full-time football, having been a youth player with Caley Jags prior to his release in 2009.
Robertson said: "I'm a bit surprised Buckie have come out and said what they have said, because I spoke to Graeme Stewart at Buckie's game against Dundee United last week when I said I wanted to have a look at him.
"Their thoughts at the time were that they wouldn't stand in his way, and that's where it was.
"We invited the lad in and then the next minute, Graeme released a lot of stuff earlier in the week saying that he won't be going cheap. That means he won't be going, it's as simple as that.
"We've spoken to them and told them we're not in a position where we can pay transfer fees.
"If there was a deal to be done we were happy to sit and talk to them about it. But they seem to have shot the gun and defended their position very quickly, or whether they are trying to get other people interested I don't know.
"Kevin will be in for another couple of days, he has done well in the couple of days we have seen him and he's a player we're interested in. But finances will dictate, and if Buckie are after a substantial fee like it's been reported, that will rule out us going for Kevin, as it will most clubs I imagine.
"He's done fine, as we thought he would. We've seen him in action a couple of times, we were keen to see him against Championship opposition and he did very well.
"We brought him in to see how he fitted in with our group of players and he did well. He seemed to enjoy it and he's keen to go full-time.
"But if Buckie are going to come out with statements like that regarding their position, which they're totally entitled to do because he's their player and he's under contract, that dream for him may be quashed."
Inverness have also handed a trial to former Rotherham, Wrexham and Rhyl attacker Connor Bell, who netted in Tuesday's 4-1 friendly win against Clachnacuddin, however Robertson says players must leave before he can pursue a deal for the 21-year-old.
Robertson added: "He played well and scored and he is a guy we are looking at, but as I've said already I'm tied at the moment until other things happen. Until we move people on there's very little scope to bring people in. It's as simple as that."