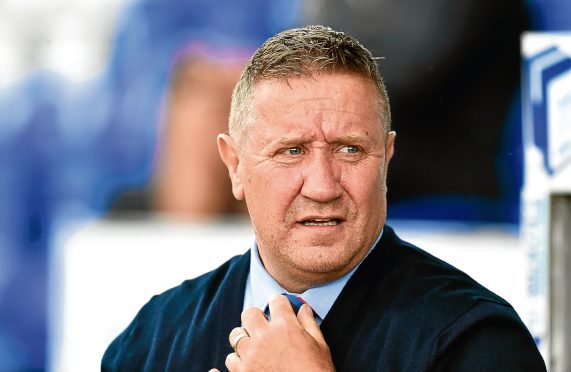 Caley-Thistle boss John Robertson has warned "troublemakers" to stay away after a group of supporters were hit with banning orders by the club.
The manager said Inverness had always had a "small but hugely loyal and passionate" fan base but that a "small minority of our supporters are being disruptive at the moment".
New chairman Graham Rae and the board promised to take a tough stance against a small group of fans who they said had "disgraced" the club away at Brechin City last month.
Police were forced to remove six people from Glebe Park and a supporters' coach was "badly damaged" on the way home.
Yesterday, the board issued a further statement which confirmed that "a number" of supporters had now been banned from attending games at both home and away games for the rest of this season, although it refused to specify how many.
Speaking ahead of the team's Scottish Championship clash with St Mirren in Paisley tomorrow, Mr Robertson said: "We want loyal, passionate supporters but what we don't want is troublemakers.
"There's no doubt there's a small minority of our supporters are being disruptive at the moment.
"Over the years, there's no doubt Inverness have had a small but hugely loyal and passionate group of supporters and we want that retained.
"We cannot condone anyone taking pyrotechnics into stadiums. We can't condone anyone ripping air conditioning units out of buses and vandalising them. We can't condone getting ejected from stadiums.
"We are 100% supportive behind the board, the supporters groups and the security people that monitor these situations.
"While we want everybody to enjoy themselves, we don't want any disruptive influence. It's been disappointing to read these things and hopefully it can be nipped in the bud. "
Mr Robertson added that he did not expect the controversy to affect his players on the pitch.
"It can detract from what we're doing on the park but it won't – it's not something that will affect the players," he said.
"We want our supporters behind us, but I just don't see the merit of taking a pyrotechnic into a game, when you see the damage it can do to other people. I've seen it in the past at other clubs and it's always the innocent ones that seem to get hurt.
"While we appreciate the passionate support we get, we would rather the element who are being a wee bit disruptive stopped that, enjoyed the game and made it an atmosphere the supporters can come and enjoy."