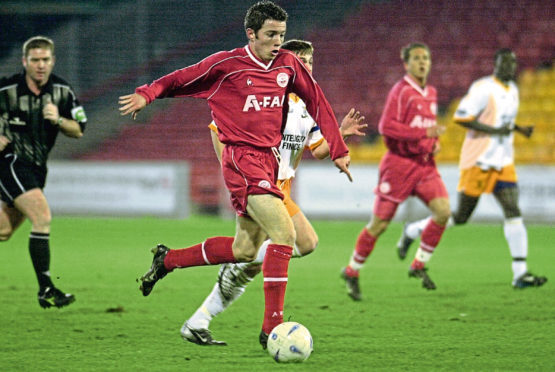 This time, it should be for good. No dramatic comebacks, no lacing up the boots and donning the shinpads one last time.
Kevin McNaughton finally will call it a career. He said the same thing 12 months ago. He would only have kept playing at Caley Thistle and once that chance evaporated, it was time to stop playing.
Joining the coaching staff at Forfar was supposed to be the first move into a new direction and a chance to settle down close to home.
But an injury crisis under new manager Jim Weir prompted an offer of help from the former Scotland international, who already had more than 400 games on the clock. Should he be needed, he would come out of retirement and help the League 1 outfit drag themselves clear of relegation.
Eleven appearances in a midfield role later and the Loons stayed up. McNaughton's job was done and listening to his creaking body, it should be the final goodbye.
He said: "My body has had enough. I've really enjoyed it but there comes a time to stop. I did it as a favour and ended up playing until the end of the season. We were scrambling for results and under pressure most weeks. I wouldn't say we were playing the best football but it was a million miles an hour. I was playing a sitting midfield role, shielding the back four – you wouldn't see me running up and down like I did 10 years ago. We didn't really have any players and we've done well to get away from danger.
"It's been tough going. I've had a few injuries over the last few seasons and playing on artificial surface wasn't the best thing for my Achilles. I enjoy playing, my head is still in it but my body is telling me no. There comes a time when you take your long-term health into account and playing with the kids in the garden is more important. My wife laughs after I come back from training hobbling, asking me why I'm still going.
"I had to take tablets to get through games so that's probably me now."
The 35-year-old has a career to be proud of with more than 200 appearances for Aberdeen, his first club, before a memory-laden spell at Cardiff City. He had nine years in the Welsh capital, two cup finals, three trips to the play-offs and a league title to take away with him. Sadly, in those three major finals at Wembley the Bluebirds came up short; to Portsmouth in the FA Cup in 2008, Blackpool in the play-off final in 2010 and Liverpool in the League Cup in 2012.
But the Dundee-born defender is still held in high regard. He was invited to their player of the year awards earlier this month and had a testimonial in Cardiff last year.
McNaughton said: "When players go down south it doesn't always work out. It was the first time I'd moved clubs and felt I needed a change. I did quite well in my first season and the supporters seemed to like that I was a 'steady Eddie'.
"I got to play at Ninian Park, which is my favourite stadium. It was old school, the fans were on top of you and the atmosphere was unbelievable.
"I'm still in contact with the few guys that I played with there and I always get a good reception when I go down."
So what next? He is an avid painter but admits to going "stir crazy" sitting in the house five days a week. Splitting 15 years between Aberdeen and Cardiff, then short stop-offs in Bolton, Wigan, Inverness and now Forfar, means it is time to settle down. His first Scotland cap and several trips to Wembley remain highlights but that chapter is closed. A new one is yet to begin.
He added: "I've got friends in businesses who would like me to join them, so there's options. It's time to get a real job, rather than messing about with these paintings. It's back to the real world and start grafting – it doesn't bother me at all."