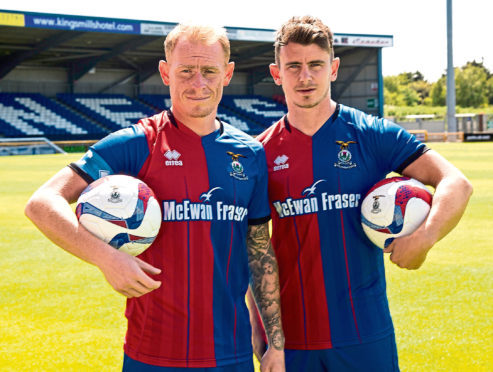 New Caley Thistle captain Carl Tremarco will not be shy to ask his predecessors for tips as he targets a flying start to the season.
The 32-year-old full-back has been handed the armband by manager John Robertson after the departure of his team-mate and friend Gary Warren to Yeovil.
As he prepares to begin his sixth season with Inverness, it would be fair to say that Tremarco has seen it all with the Highland club.
There have been the highs of a Scottish Cup triumph and Europa League football to the pain of relegation from the top flight.
Along the way, the Liverpudlian believes playing under captains Warren and Richie Foran stand him in good stead as he begins life as the team's new skipper.
Tremarco said: "It won't change the way I play, the way I approach games or how I am in the dressing-room but there will be some things that change that fans don't see, behind the scenes.
"I'm quite close to Gary Warren, so I'll be seeking advice from him, his are big shoes to fill.
"A lot of what he has done has influenced me and Richie Foran, too, who was a brilliant captain. I learned a lot about how to be a leader and do things right from them."
With nearly 150 appearances under his belt for Caley Thistle, and as the only squad member over 30, it will be only natural for players to look up to Tremarco for advice.
But he believes it can't just be all be down to him and new vice-captain Aaron Doran to provide leadership.
He said: "We want 11 leaders on the pitch, you can't have too many. Just because I'm the captain doesn't mean I should be the only one screaming and shouting."
There was disappointment at the climax of last season for Inverness as a stoppage-time equaliser from Dunfermline prevented them from reaching the play-offs.
To even get that close seemed unlikely just a few weeks earlier but a jam-packed schedule and an 11-match unbeaten run brought them within touching distance of the top-four in the Championship despite the club's very sluggish start.
Tremarco is adamant that things must change this season.
"We need a better start," he said. "If we'd started half-decent last year we'd have been in the play-offs.
"We weren't winners at the start of last season. But the second half of the season was good and hopefully we can carry on that momentum, we can't do what we did in the first three months of last season."
While he is keen to stress his first priority will be on Caley Thistle's pre-season preparation, Tremarco admitted he asked if the club's game at Clach on Saturday could be rearranged because it clashed with his native England's match against Sweden in the World Cup.
As a compromise, his manager has agreed to play him, and the team's other Englishmen, in tonight's game at Nairn County instead so he can watch England on Saturday.
Tremarco said: "I was taking a throw-in at Rothes when the Colombia game was on and a fan shouted at me 'Hey Tremarco, that's it gone to extra time!'. I just laughed it off but we were all watching penalties in the dressing-room and Liam (Polworth) and Shaun (Rooney) were cheering when Henderson missed his penalty but then England ended up winning, so George Oakley and me were going crazy.
"It's a good laugh with the boys and we're certainly enjoying it."