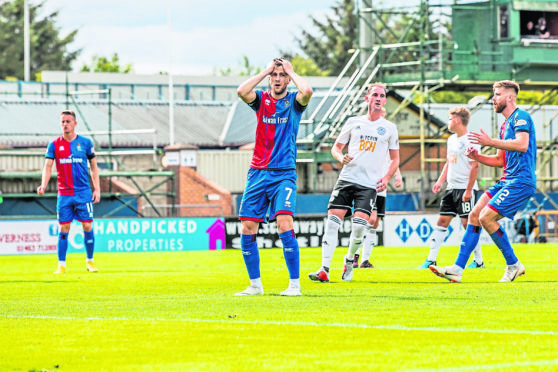 Joe Chalmers defended Liam Polworth as one of Caley Thistle's best players after he was criticised by a small section of his own support during Saturday's 0-0 draw with Ayr United.
Polworth, who missed a penalty during the Championship stalemate with the Honest Men, took to social media immediately after the game to describe members of the Caley Thistle support as "embarrassing" and claimed that members of his family had received abuse during the match.
Defender Chalmers talked up Polworth's importance to the team and added how much those in the dressing-room enjoy playing with the Inverness-born midfielder.
Chalmers said: "You don't really notice it when you're playing.
"But Liam is one of our best players and a pleasure to play with. I really enjoy playing with him.
"He's a valuable part of the team. But when you're playing you don't notice anything like that.
"Maybe it is part of being local. It's hard for me to comment.
"All I can say is we all enjoy playing with him and he's a brilliant player to play with. That's all that matters for us.
"He'll be disappointed with himself but he got the ball and wanted to take the penalty. The boys have not got a problem with that. Everyone would have been confident with him getting the ball – he's such a good player and it's just one of these things. The boys got round him and told him just to keep going."
Caley Thistle goalkeeper Mark Ridgers also tweeted his support for Polworth, saying: "A handful of fans were out of order with some of the abuse directed at a player.
"Yes, it can be frustrating but personal abuse is disrespectful, especially from your own fans."
Polworth, 23, is in the final year of his contract.