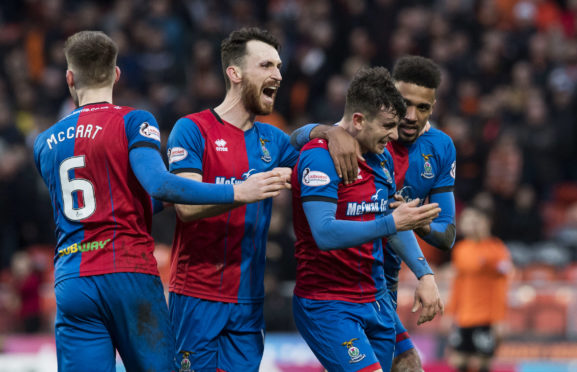 He scored the goal which has taken his club to the brink of another Scottish Cup final but Aaron Doran insists winning promotion remains the number one goal for Caley Thistle this season.
Doran's dramatic injury-time winner at Dundee United sent Inverness through to next month's semi-final where they will face either Partick Thistle or Hearts, but with his club one point off a play-off place in the Championship the Irishman believes the league is the priority at Caledonian Stadium.
Doran, whose side play Queen of the South at Palmerston Park today, said: "The cup hasn't been a distraction, up to now. At the weekend that felt like the biggest game of the season.
"It was a huge game and it is hard to come down after it. But we've got the focus back now after a couple of good days in training. We know what we have to do – our main aim is the league.
"It has been brilliant to go on a run in the Scottish Cup and we want to get as far as we can in both competitions. We're aiming for the play-offs and we're aiming to get through to the final.
"But the league is definitely the biggest target – we want promotion back to the top league. That's the number one aim, so we'll kick on from here and look at the semi-final when the time comes."
The 27-year-old believes winning promotion should take precedence over cup glory but he sees no reason why his club's cup run cannot boost their push for a play-off place.
He said: "Right now, we're fully concentrating on the league. Every game is like a cup final now, to be honest. Around this time last season, we went on an unbelievable run and that's what we're aiming to do now.
"We're trying to kick on from the weekend's performance and play like we did in the quarter-final. If we do, we'll be tough for any team."
Doran's delight at scoring the winning goal at Tannadice was clear and not just because of the significance of his match-winning goal. It also cemented his belief he is finally getting back to his best after two horrendous years of knee injuries.
He said: "It took me a while to get back into good form. I'm scoring a few goals now and I feel I'm playing well, just getting back to my old self hopefully.
"I want to score as many as I can before the end of the season and see how well we do as a team. I think I'm back to where I was before the two injuries. I feel confident playing up against my man – I want to take him on a get shots off.
"I maybe wasn't doing that at the start of the season and I don't know why – maybe it was a confidence issue. I feel really good now and I know, if I'm at the top of my game, I'm a good player. I just need to keep doing that.
"Maybe a few people had written me off since and even during the injury. A couple of people didn't think I'd make it back I got a similar sort of injury in my other knee. People are going to think that.
"It takes a while to get over those injuries, but I've forgotten about them now – I'm getting back to my best."