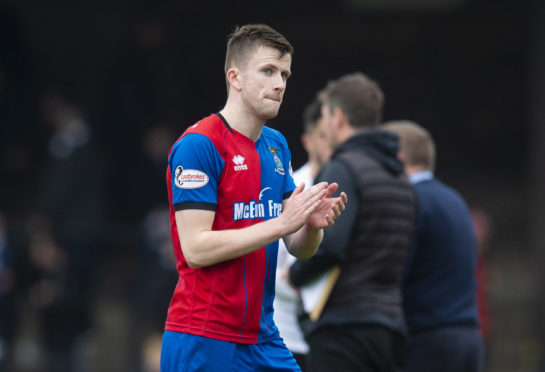 "Don't it always seem to go, you don't know what you've got 'til it's gone."
Joni Mitchell's lyrics may prove prophetic to Caley Thistle fans next season in the wake of Liam Polworth's departure.
The news broke of his pre-contract agreement with Motherwell on Wednesday and it hardly came as a surprise. This was a player proven ready for Premiership football again and had certainly given more than his share to the Caley Thistle cause.
But, bafflingly, there has been an element of the Caley Thistle support that for some reason never bought in to what he brought to the team. The ugly and unnecessary abuse of his family in a game against Ayr last August probably played a big part in his decision to leave.
Polworth has been the team's creative lynchpin throughout their time in the Championship. With Ryan Christie, Iain Vigurs and Greg Tansey gone, Polworth has emerged from the background to become arguably their most important player. They look for him to influence games; he may give the ball away more often because he is looking for that incisive, killer pass more often. He does not want to play safe all the time.
He has 12 assists in the Championship this season, level with Josh Mullin and one behind Fraser Aird, but supercedes them when other competitions are taken into account. Polworth leaps up to 20 assists for the season, thanks to eight in cup competitions, which puts him clear at the head of the field. Add that to 25 assists from last season and you have one of the most creative players in the country.
Credit must be given to John Robertson for playing him in his best position, as a number 10 in front of the midfield. John Hughes and Richie Foran both tried to deploy him as a winger which clearly did not suit him and there is no coincidence that when he was moved into the middle, his contributions increased.
His body language is something that has been held unfairly against him, almost as a symbol that he lacks effort or the willingness to try. On the contrary, he is often at the forefront of trying to make things happen.
Had Inverness earned an immediate promotion back to the top flight last season then the conversation might have been different. But in Motherwell, Polworth has a good environment in which to thrive, as part of a youthful, energetic midfield that can acquit themselves physically. Polworth gives them a new link between midfield and attack.
The onus is now on Caley Thistle to find a replacement for the 24-year-old, as a claret-and-amber taxi takes away their main man.