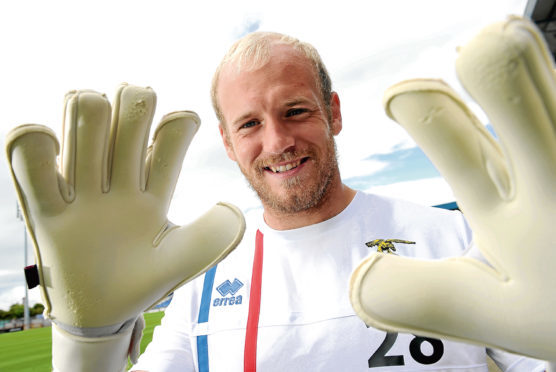 Mark Ridgers is committed to the cause of helping hometown club Caley Thistle return to the Premiership – whether it be next season or beyond.
Goalkeeper Ridgers has signed a two-year extension to his Inverness deal, which means he will remain at Caledonian Stadium until 2022.
Inverness remain uncertain over which league they will play in next term, with John Robertson's men still aiming to gain promotion to the Premiership through the play-offs.
Ridgers had no hesitation in pledging his future to the Highlanders regardless of the outcome, with the prospect of guiding Inverness back to the top-flight an ambition the 28-year-old remains determined to fulfill.
Ridgers could return for today's final league match at home to Dunfermline after returning to full training following a dislocated finger, he said: "The manager did say I could wait until the play-offs were decided and the season was over.
"For me, it wasn't a case of that because I honestly believe the club can get back to where it's been – that's crucial.
"I've seen what the manager is trying to do at the club, and what he's implemented since coming in around the same time as me. We've progressed, we've got better.
"Hopefully this season we can see it over the line, but it is one of those where it was never going to be a case of 'is there anything better out there?'
"Premiership football was the goal when I signed for the club and it still is.
"We still have an opportunity to do it this season, but if we fall short there's no doubt we'll be back up there next season.
"It is about stability and being comfortable where I am, focussing on football and not having to worry about what's coming at the end of a season.
"Fingers crossed, I'll continue to be happy here – hopefully playing in the Premiership."
Robertson faces a challenge to keep his squad intact, with midfielder Joe Chalmers attracting interest from Ross County and striker Nathan Austin a target for Airdrie among other clubs. Midfielder Liam Polworth has already signed a pre-contract with Motherwell.
Ridgers can understand team-mates looking to keep their options open but hopes more players will follow his lead, adding: "The manager deserves a lot of credit for the players he has brought in because it has been well-documented a good few of us were moving around, trying to find stability. He's brought that.
"In a perfect world, we'd love to keep the squad we've got, but everyone knows football.
"I'm different to other boys in the dressing room in that I'm not from the Central Belt or beyond. A lot might think being closer to home might help them in terms of moving on in their private lives.
"But if players want to be here, they know what the club's about.
"I can't speak for them, but ideally I'd love the majority to stay because we have a really good squad now."