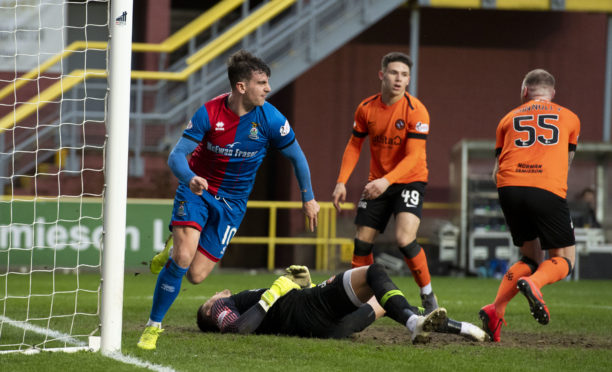 Caley Thistle will begin the 2019-20 Championship campaign with a trip to Dundee United.
John Robertson's men will make a quick return to Tannadice, where their hopes of promotion to the Premiership were dashed by their promotion play-off defeat in May.
Caley Jags will host newly-promoted Arbroath the following weekend, before making another trip to Tayside on August 24 to play Dundee, who suffered relegation from the Premiership last season.
Inverness will make the return trip to face Dick Campbell's Arbroath on November 9, in their first trip to Gayfield in nearly seven years.
Caley Jags will enjoy a home festive double header, welcoming Dunfermline to Caledonian Stadium on December 21 before hosting Arbroath seven days later.
Inverness' final league game is at home to Dunfermline for the second successive season on May 5.
Caley Thistle's fixtures for the 2019-20 season:
August 3, 2019 15:00 Dundee United v Inverness Caledonian Thistle
August 10, 2019 15:00 Inverness Caledonian Thistle v Arbroath
August 24, 2019 15:00 Dundee v Inverness Caledonian Thistle
August 31, 201 15:00 Inverness Caledonian Thistle v Morton
September 14, 2019 15:00 Dunfermline Athletic v Inverness Caledonian Thistle
September 21, 2019 15:00 Inverness Caledonian Thistle v Queen of the South
September 28, 2019 15:00 Inverness Caledonian Thistle v Partick Thistle
October 5, 2019 15:00 Ayr United v Inverness Caledonian Thistle
October 19, 2019 15:00 Inverness Caledonian Thistle v Alloa Athletic
October 26, 2019 15:00 Morton v Inverness Caledonian Thistle
October 29, 2019 19:45 Queen of the South v Inverness Caledonian Thistle
November 2, 2019 15:00 Inverness Caledonian Thistle v Dundee United
November 9, 2019 15:00 Arbroath v Inverness Caledonian Thistle
November 16, 2019 15:00 Inverness Caledonian Thistle v Dundee
November 30, 2019 15:00 Alloa Athletic v Inverness Caledonian Thistle
December 7, 2019 15:00 Inverness Caledonian Thistle v Ayr United
December 14, 2019 15:00 Partick Thistle v Inverness Caledonian Thistle
December 21, 2019 15:00 Inverness Caledonian Thistle v Dunfermline Athletic
December 28, 2019 15:00 Inverness Caledonian Thistle v Arbroath
January 4, 2020 15:00 Dundee v Inverness Caledonian Thistle
January 11, 2020 15:00 Inverness Caledonian Thistle v Queen of the South
January 25, 2020 15:00 Ayr United v Inverness Caledonian Thistle
February 1, 2020 15:00 Inverness Caledonian Thistle v Alloa Athletic
February 15, 2020 15:00 Dunfermline Athletic v Inverness Caledonian Thistle
February 22, 2020 15:00 Dundee United v Inverness Caledonian Thistle
February 29, 2020 15:00 Inverness Caledonian Thistle v Partick Thistle
March 3, 2020 19:45 Inverness Caledonian Thistle v Morton
March 7, 2020 15:00 Alloa Athletic v Inverness Caledonian Thistle
March 14, 2020 15:00 Arbroath v Inverness Caledonian Thistle
March 21, 2020 15:00 Inverness Caledonian Thistle v Dundee
March 28, 2020 15:00 Inverness Caledonian Thistle v Ayr United
April 4, 2020 15:00 Morton v Inverness Caledonian Thistle
April 18, 2020 15:00 Partick Thistle v Inverness Caledonian Thistle
April 25, 2020 15:00 Queen of the South v Inverness Caledonian Thistle
May 5, 2020 15:00 Inverness Caledonian Thistle v Dunfermline Athletic