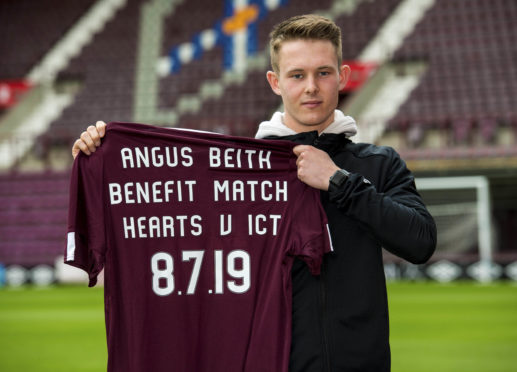 Angus Beith admits tonight's benefit match between Hearts and Caley Thistle will be an emotional experience.
The 23-year-old moved from Hearts to Inverness at the start of last season but could not play due to a hip injury.
Beith had to retire in April and has taken up a new post as coach of Hearts' under-12s.
His two former clubs have arranged a benefit match for the former Scotland under-19 cap Beith, which is tonight at Tynecastle (7.30pm kick-off).
He said: "I think it shows the class of the two clubs, getting together and looking after somebody who has played for both. They didn't have to do this for me so it probably will be an emotional night.
"I feel like I've dealt with that (the emotional side) but seeing boys I've played with and two teams that I've obviously been involved with, I'm sure it will stir up a few emotions; I'll have my family there as well.
"The overriding emotion is I'm very grateful that they've managed to do this and put it on for me."
Beith admits it has been difficult to come to terms with being forced to retire from football at such a young age.
He said: "It is brutal. Playing for Hearts was everything I wanted to do.
"I had been at the club since I was nine and you get immersed in it all, but looking back I feel I could have done so much more with my career. I was plagued by injury and I just wasn't able to get back to that top level.
"Retiring was a tough decision at the time and it's devastating but I feel comfortable that it was the correct one."