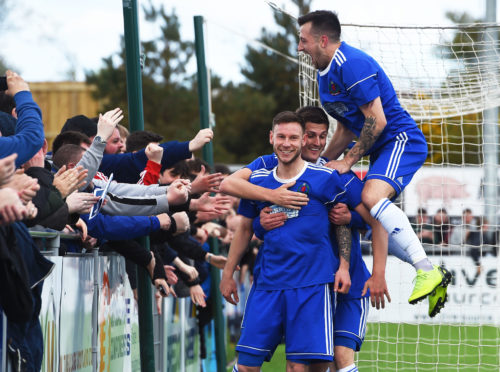 John Robertson wanted Mitch Megginson for the Championship – but is convinced the Cove Rangers striker should be gracing Scotland's Premiership.
The Hearts' record goalscorer tried to bring the prolific Highland League marksmen to Caley Thistle last year but found him too expensive.
With a successful career in job in the print services industry and a decent part-time contract with Cove, Megginson is out of reach financially for Caley Thistle and a good number of full-time clubs.
But with his past target heading to Inverness on League Cup group business tonight, Robertson has put his defence on high alert.
Megginson hit 49 goals for Cove last season, bringing his total for the SPFL newcomers to 130 across three seasons.
Inverness manager Robertson warned: "Mitch Megginson is Premiership standard, in my eyes. We had a nibble at him last year when he was out of contract, but he is one of those players – similar to Rory McAllister at Peterhead – who has got himself a very nice niche.
"He has a good full-time job and he gets very well paid for playing part-time football for Cove Rangers. To bring him to full-time football would mean him losing a lot of money.
"But in terms of his quality, his finishing and his general game, he is a Premiership footballer. There's absolutely no doubt Mitch Megginson could play for half a dozen teams in the Premiership no problem. Most of the Championship would be delighted to have him.
"We had a serious look at him, but just couldn't get anywhere near the money he is on. He's a big threat, but so are others in that Cove side – Daniel Park, Jordon Brown, Blair Yule and young Harry Milne, the full-back, when he bombs forward.
"We know what lies ahead tomorrow night. We need to win our next two games, but Sunday against Dundee is irrelevant if we don't take a victory tomorrow night."
Robertson's side needs full points against Cove to set up a likely group decider against Dundee this Sunday.
A 4-1 victory over Raith Rovers in Inverness marked a vast improvement on the group opener Robertson's side endured in drawing 0-0 with Peterhead.
He said: "Saturday was the response we needed. Barring 10 minutes when we fell asleep and lost an equaliser, we responded brilliantly and got ourselves back on track.
"It was a good win and really good, solid performance, but the really encouraging aspect is we feel we can still get sharper and better."
Robertson knows Cove's new manager, fellow former Hearts man Paul Hartley, will be well-prepared for the trip to the Highlands.
He said: "We need to win to set up a straight shoot-out between ourselves and Dundee. But the players have been told, in no uncertain terms, it is going to be a tough night.
"Paul Hartley has a very good side, who pass the ball well as we saw here last year. Attack-wise against Peterhead they were excellent and defensively, against Dundee, they were superb.
"We're not even looking at the Dundee game. We can't afford to take our eye off the ball against Cove.
"All our thoughts now are on Paul Hartley's team. Once the game is finished, that will dictate what we're preparing for over the next few days."
Brad Mckay could be back in action after missing Saturday's match with a hamstring strain, with Caley Thistle otherwise unchanged.