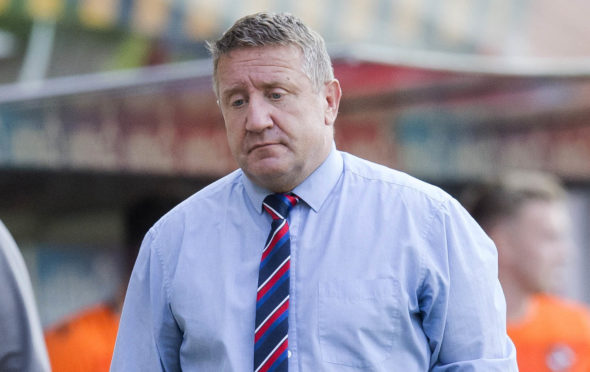 Caley Thistle manager John Robertson says working on a reduced budget makes him all the more determined to outperform the Highlanders' bigger spending Championship rivals.
Title favourites Dundee United and Dundee have invested heavily in their squads over the summer, while Robertson also estimates his own budget to be lower than that of Dunfermline and Partick Thistle.
Robertson concedes he is unable to compete in the same market as the likes of United, whose headline summer signing Lawrence Shankland netted all four goals in their 4-1 win over Caley Jags at Tannadice last weekend.
That only serves to motivate Robertson to make the most of the resources he has, and he said: "Dundee United and Dundee's financial backing, as well as Dunfermline and Partick Thistle, will have a massive part to play. We have seen that already.
"Last year we dealt with a budget that was about a third of United's and Ross County's. In this league, that is huge.
"United have brought a player in who is a goal-machine at this level. Nobody else could get near that, with the money they have paid.
"Good luck to them. You can't begrudge people who are putting money into football. They are actually investing in football, which should be congratulated.
"It will just make it all the more sweeter to show what we can do with the finances we have got here.
"That's what the fans have got to understand. I was actually stopped at the local supermarket and asked why we weren't in for Lawrence Shankland, and that's where fans have got to be realistic.
"Lawrence Shankland would have cost a third of our budget. We have got to work within the confines, and make sure there is a football club here for a long time. That's what we intend to do."
Robertson is without injured trio Shaun Rooney, Sean Welsh and Brad Mckay for today's home match against newly-promoted Arbroath, with the Caley Jags boss wary of the Red Licthies.
He added: "Dick Campbell, year-in, year-out, is successful in the lower leagues. He brings in experienced players, which he marries alongside some youthful lads with legs.
"When you look at the squad he's got, he packs his team full of good, experienced players. They are hugely organised and a real threat.
"We've got to deal with that. We've said before, and it was proven again last year, but early on in the season in particular there was no gulf at all in terms of fitness and sharpness between full-time teams and part-time teams."